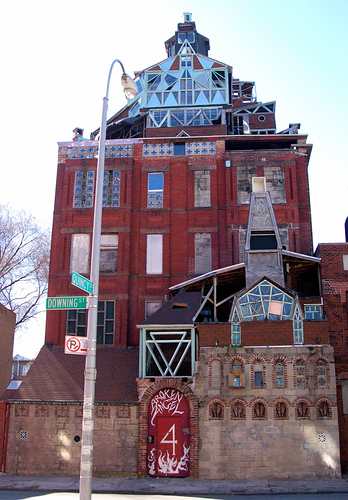 The saga of Broken Angel House, the hand-crafted Clinton Hill mansion of bizarre angles and strange art, has taken a somewhat odd, though not altogether unexpected twist.
Christopher Wood, the son of artists, house-crafters and erstwhile owners Arthur and Cynthia Wood, has launched a kickstarter campaign to transform the house into a museum, thus staving off the last stages of foreclosure proceedings, Curbed reports.
All things considered, it's really no surprise that Mr. Wood, a sprightly octogenarian, has taken to crowdsourcing, today's go-to source for creative campaigns and lost causes.
Mr. Wood  and his late wife Cynthia bought the 10,400 square-foot property at city auction in 1979, a "wrecked and ruined" "empty shell of a building," according to the campaign, that the artists set out to transform "into something magical and majestic" with stained glass windows made from broken bottles and concrete angels with brick wings in the rafters.
The result—a weirdly beautiful mansion—was not, unfortunately, built up to code, as the city discovered after a fire destroyed part of the building in 2006. So the couple decided to fund the costly renovations that they needed to make with an ambitious condo-conversion plan—a not altogether terrible idea given that the house was located at the rapidly gentrifying intersection of Clinton Hill and Bed-Stuy and had recently starred as the backdrop of Dave Chappelle's Block Party.
But the recession hit, plans fell through, Ms. Wood was diagnosed died of cancer, and the house found no buyers when Mr. Wood  put it on the market. Madison Realty Capital, which gave Mr. Wood a $4 million mortgage to carry out the plan, now owns the house, although Mr. Wood has yet to be evicted.
The kickstarter campaign is trying to raise $50,000 with a huge collaborative art project—selling one-inch art spaces on the outside of the house for $20. It would, of course, be only a small step towards preserving the house. But for an artistic borough whose creative side is so often expressed via tote-bag stenciling artists, hipster taxidermists and artisanal picklers,  Broken Angel House seems like a uniquely worthy cause.
kvelsey@observer.com