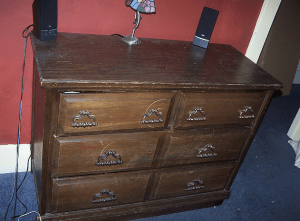 Unfortunately for Brooklynites, a Park Slope shop recently deemed its interior stylings unsafe and potentially toxic—just what one wants in home furnishings.
Trailer Park, located at Sterling Place, is withdrawing some of its vintage wares from shelves, The Brooklyn Paper reports, after several concerned Brooklyn parents asserted that the refurbished furniture contains high levels of lead, which can be toxic to children.
Chris Houghton, owner of the Park Slope store, said that he will not continue selling the affected furniture, which is constructed from recycled barn wood and was restored years ago with a lead-infused paint (decades before high lead levels were considered a health concern).
"This is a big deal to me," Houghton said. "I don't want to hurt kids—I have kids."
Haughton is working with consumer safety to investigate whether he needs to recall the products.
The lead scare was initially brought to light in the kid-filled Slope after parents tested several pieces of furniture and discovered they were well above the legal limit for lead. (Only in Park Slope would you test your artisinal furniture after you buy it.)
Jill Penman said she found more than 600 parts per million of lead in her white cabinet—more than five times the legal limit of 90 parts per million. Another Trailer Park buyer, Heather Hamilton, said she realized her bench and table contained elevated lead levels after being told her one-year-old had "excessive" lead exposure.
Trailer Park will continue selling furniture, but has since ridded its stock of the contaminated furniture. Until having toxic furniture somehow becomes ironically chic, at which point those leaded shelves will be back on the shelves in no time, we're sure.