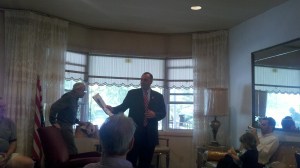 "I am as Tea Party as they come," Russell Gallo, a district leader and head of a young Republican club in Brooklyn, announced yesterday afternoon. "Fiscal conservative. On social issues I don't think anyone can be more conservative than I. Marriage can only be between one man and one woman in my opinion, and I will vote that way every chance I get if elected."
Explaining his candidacy for the State Assembly to a Brooklyn Tea Party crowd in East Flatbush, Mr. Gallo stressed again that neither incumbent Democrat Steve Cymbrowitz, nor his primary opponent Ben Akselrod, would  come close to him in terms of conservatism. 
"Both of my Democratic opponents are trying to become more conservative than the other, neither of them will be more conservative I," he added.
And even though both of the Democrats in the race are relatively socially conservative, Mr. Gallo repeated an emphasis on social issues when asked to draw a contrast between himself and Mr. Cymbrowitz.
"He comes back to the conservative side of the spectrum every two years, especially when he has a conservative candidate running against him and then he wants to — like most southern Brooklyn Democrats — claim to be conservative," he answered. "The man voted against gay marriage, good for him, he made the right choice on that one.  However, he did cast a vote not too long ago in support of adoption by any two people, which would include — you fill in the blank."
"I'm the real deal, conservative."