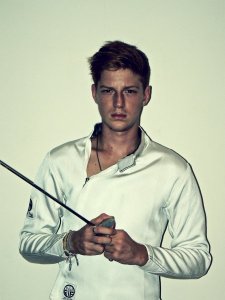 When you already live in Brooklyn, intern for indie label Fool's Gold (home of Kid Cudi and Chromeo), and were named "Race" (like, it's on your birth certificate), your cool cred is basically set for life…or at least until you hit 30. But 19-year-old Race Imboden is so much more than a pretty face with a Fuji bicycle and a penchant for Shake Shack, Union Pool, and Top Shop. He's also the youngest U.S. fencer ever to make it into the Olympics.
Now, pop quiz:

Is Race Imboden:
a) Hip, because he's found perhaps the esoteric sport outside of dressage to excel at;
b) Unhip, because he's an athlete and cares enough to be the best at something;

c) Unhip, but only because he a sell out who now uses Twitter to promote the games, show off his latest interview in New York Magazine, and brag about having a stamp with his face on it;
d) Hip, until Deadspin/NY Mag/New York Post tells us otherwise;
e) at an undetermined hip level, TBD until such time as he wins/loses/executes a totally awkward Parry Counter-Six that reminds us why we never watch fencing unless its in a movie about pirates.
Either way, he's currently doing for fencing what attractive Russian girls do for gymnastics, or what Aussie Michelle Jenneke did for warm-ups.