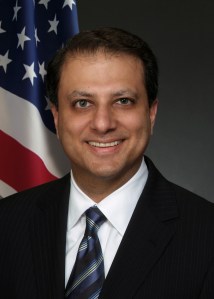 Remember Benula Bensam? She's the Benjamin M. Cardozo School of Law student who couldn't land a summer internship, decided to spend her summer haunting the U.S. Southern District courthouse in downtown Manhattan. Which was going just fine, thank you, until Ms. Bensam started writing letters to Judge Jed Rakoff during the insider-trading trial of former McKinsey & Co. CEO Rajat Gupta.
That led to Ms. Bensam being summoned from the courtroom by U.S. Marshals,who instructed the eager law student that her correspondence (read the letters here) could be construed as an attempt to influence the case. At least, so go the press accounts of the incident.
Well. Ms. Bensam didn't take her treatment at the hands of U.S. Marshals lightly, and earlier this month filed a complaint against U.S. Attorney Preet Bharara, assistant USAs Reed Brodsky and Richard Tarlowe, the U.S. Marshal Service. Her beef: Upon entering the courthouse, Ms. Bensam checked her cell phone at the door. Upon exiting, marshals refused to return her phone. Thus: "Unreasonable search and seizure."
Above the Law breaks down the complaint, which you can read in its entirety here. A taste: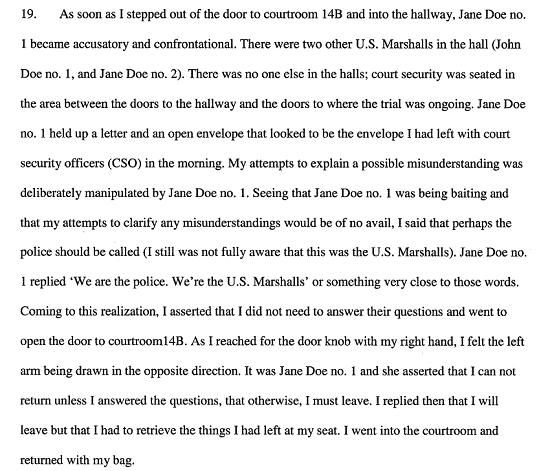 Ms. Bensam doesn't ask for concrete damages in her complaint, though she offers one remedy that might provide a start: "Collection of personal electronic devices should be ordered stopped and other less compromising means may be adopted for ensuring no disruptions in the courtrooms."
Which holds a certain amount of appeal to this occasional visitor to the courthouse, though it may be a little like running for class president on a promise to reduce homework. At any rate, we're glad to see that Ms. Bensam is still keeping busy.