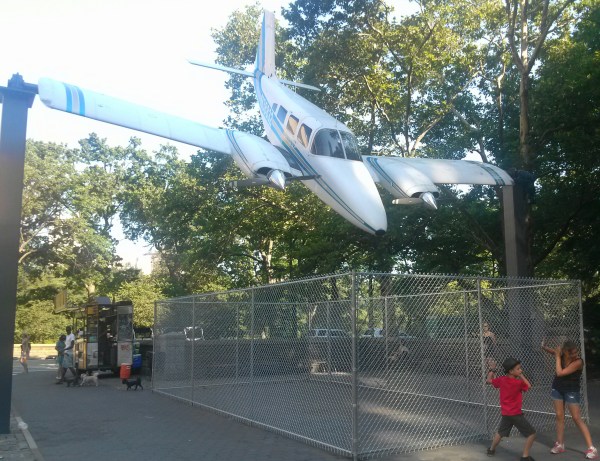 A daytime stroll through Central Park yields a variety of strange sights: dog-toting passersby, horse-drawn carriages begging for passengers, vendors of goods far more exotic and varied than pretzels or peanuts.
But upon departing from the shady canopy of trees on a recent afternoon, we saw something flying—or rather, falling—on the southern edge of the park that was, hard it was to believe, a fresh sight for our jaded eyes.
A large aircraft—a two-engine, six seat airplane to be exact—was poised at the entrance of the enormous park in the Doris C. Freedman Plaza.
At first, we thought it might be a children's ride–one meant for sick pleasure as it rotated a full (and very slow) 360 degrees. Perhaps it was an efficient way for tourists to rid themselves of tiresome children. How clever!
But upon closer observation, we saw a large chain link fence barricading the sculpture from onlookers, who appeared both as fascinated and as confused as we were (tiresome children would need to be dispensed elsewhere, apparently).
Further investigation revealed that the aircraft, also known as How I Roll, was a sculpture by artist Paola Pivi and commissioned by the Public Art Fund. The plane (which is supported on either side by steel posts) rotates in continuous motion as spectators stand open-jawed and wide-eyed or take teasing photos that look as if the plane is about to crash just outside of Central Park.
Central Park, it would appear, has it all—skating rinks, swimming pools, outdoor concerts, marriage proposals, runners, bikers and, to really take the cake, art that apparently appeals to children.
When we questioned the onlookers at the site of the installation/sculpute, they admitted that they shared our confusion in regards to the revolving aircraft.
"I thought it was a thing for kids, like a roller coaster," Xuewen Chai, a 40-year-old native New Yorker told The Observer.
Antonio Hernandez, 19, and also a native to New York, shared Chai's sentiments, adding that he thought it was some sort of simulator.
"I was very impressed," he said, fighting the sun's glare as he gazed at the revolving aircraft. "It's just sitting here in the middle of the city."
However, not all onlookers shared the same sense of appreciation.
"For me, it's an airplane spinning on its wheels," one bystander told us with more than a hint of boredom in his voice.
Others mumbled about how the exhibit reminded them of the dilapidated aircraft in the popular TV series Lost, or made disparaging remarks about the chain link fence ruining the look of the exhibit.
We agreed that metal fence took the prestige of the large aircraft down a notch. But then, we doubt prestige was really what the artist was aiming for when she assembled a large aircraft in the middle of Central Park. Instead, Ms. Pivi has made a career of placing unexpected objects in strange contexts, and there are few stranger things than a full-size plane in Central Park.
sgrothjan@observer.com