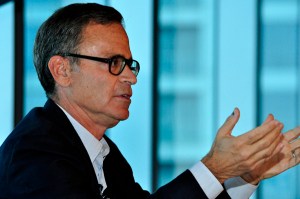 The Centre Pompidou in Paris has appointed a new chairman for its U.S. philanthropic arm, according to an article in The Art Newspaper.
The personnel change comes after  a clash between Alain Seban, the Pompidou's president, and the former chair Robert Rubin. Mr. Rubin's replacement will be Steven Guttman, the founder of the New York-based company Storage Deluxe.
Here's more from the article:
The dispute was sparked earlier this year when Rubin, a former commodities trader, strongly criticised Seban's managerial style, including the Pompidou chief's decision to hire Fabrice Bousteau, the editor-in-chief of Beaux Arts magazine, as co-curator of the 2011 exhibition "Paris-Delhi-Bombay". Seban defended the move and rebutted Rubin's charge that the show "cost two to three times more [to mount] than other Pompidou exhibitions".