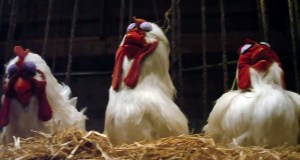 Chick-Fil-A is an Atlanta-based fast-food chain you may have heard of, whose chicken sandwiches have a cult following, but whose cult-like devotion to anti-gay causes have increasingly put them in the media spotlight. Except on Sundays. They are closed on Sundays.
All of this recently culminated in that telltale culture-news saturation point indicator, a withering segment about them on The Daily Show. And on Friday, The Jim Henson Company—which makes Muppet toys for Chick-Fil-As kids' meals—cut ties with the company as well. So, how's Chick-Fil-A fighting back?
The Daily Show's co-creator, Lizz Winstead, Tweeted out this photograph today: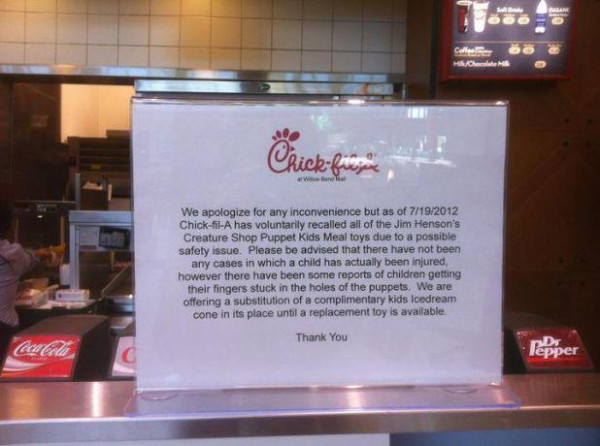 It appears to be from the Willow Grove Mall in lovely Willow Grove, PA. Blogger Joe My God found that they're not the only one taking this message tactic:
Chick-fil-A is initiating a voluntary withdrawal for our Jim Henson Creature Shop Puppet Kid's Meal Premiums due to a product issue (even though all puppets passed safety testing requirements). In lieu of the kid's meal premium we will offer a Kid's Icedream. We plan to have replacement kid's meal premiums within 2 weeks. Thank you and we apologize for any inconvenience.
Now, technically, they're not The Muppets, which Disney now owns, but Jim Henson creatures are all kind of informally common-noun "muppets," no?  Either way, Chick-Fil-A is saying that the "voluntary recall" happened before The Jim Henson Company made their announcement: Essentially, that they recalled the product voluntarily, and The Jim Henson Company exploited the moment to take a stand.
Which seems unlikely, given both the "voluntary" nature of the product recall, as well as the varying messages each Chick-Fil-A franchise seems to be putting out.
When contacted for quote by the Huffington Post, The Jim Henson Company referred a reporter to their previous statement and basically told them to check in with Chick-Fil-A, but as The Consumerist pointed out, the recall is in fact "voluntary," which refutes what the sign at the heart of this reads: That it's a recall. Furthermore, they contacted the Consumer Product Safety Commission, which issues recalls like the one that'd be required for the toys in question; they had no issues with the toys listed for recall action.
But essentially, what you have here is an anti-gay fast-food chain and The Jim Henson Workshop engaged in a P.R. war, with a confused media caught in the middle, attempting to interpret subtleties in messaging that have more or less been distributed through social media. It is mostly weird, and relatively funny.
fkamer@observer.com | @weareyourfek