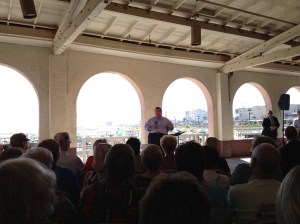 OCEAN CITY – Gov. Chris Christie told another shore crowd today that "Corzine Democrats" need to "get the hell off the beach" and come back to the Statehouse to vote on immediate tax relief.
The governor took his "Endless Summer Beach Tour" to Ocean City today and told at least a couple of hundred residents that the Democrat-controlled Legislature is blocking their immediate tax relief.
"It's been 25 days since the Legislature left town and decided not to give you a tax cut," Christie said to the warm crowd.
"They'd rather spend that money on their programs and on special interests in Trenton than on you," he said.
Christie said Democrats never intended to give New Jerseyans a tax cut simply because when he compromised on a tax cut plan, Democrats balked.
"They were for their own tax cut until I agreed to it," he said. "They never wanted to cut your taxes because they wanted to spend your money."
Christie's comments come on the heels of a poll released Tuesday that shows a growing number of New Jerseyans believe it may be a good idea to hold off on a tax cut until the state's revenues pick up, according to a Monmouth University/Asbury Park Press poll.
Fifty-four percent of voters said it's "better to wait" after they were asked if they thought it would be better to pass a tax cut now or wait to see if enough revenues come in to support it. The latter is a key talking point for Democratic lawmakers, who denied the governor immediate tax relief in the recent budget unless the state's revenues show gains.
In the poll, only 37 percent of voters agreed it was better to pass more immediate tax relief.
The University/Asbury Park Press poll surveyed 803 New Jersey voters between July 18 and 22. It had a margin of error of plus or minus 3.5 percent.
But however much the poll showed a growing number of residents agreed with the tax relief position taken by the Democrat-controlled Legislature, the same survey found Christie's public job approval rating remains above 50 percent.
Christie earns a 52 percent approve to 36 percent disapprove job rating among all Garden State residents. Among registered voters, his rating stands at 53 percent approve to 35 percent disapprove, according to the poll.