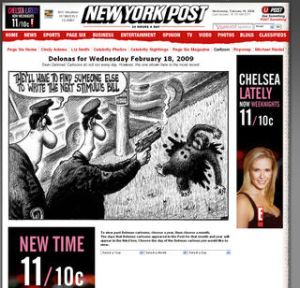 A federal judge in Manhattan yesterday denied New York Post editor Col Allan the right to invoke editorial privilege to avoid answering questions about Rupert Murdoch posed by former employee and plaintiff Sandra Guzman, reports Reuters. Ms. Guzman, a former associate editor, is suing the paper and parent company News Corp. for discrimination and harassment on the basis of her gender, race and nation of origin. 
During a seven-hour deposition last month, Mr. Allan reportedly refused to answer questions related to a 2009 cartoon that likened President Barack Obama to a chimpanzee, including whether he and Mr. Murdoch disagreed over publishing an apology, which the paper did, and whether Mr. Murdoch believed it was a mistake to do so.
Judge Ronald Ellis said editorial or journalistic privilege usually applies to cases involving reporters and the protection of sources—not editors and the protection of their bosses.