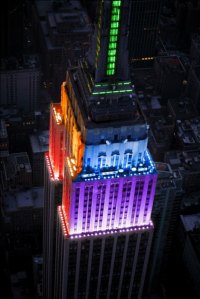 Opponents of New York's 2011 gay marriage law had sought to overturn the legislation under grounds that it violated New York's Open Meetings Law, arguing the closed-door meetings held by New York State Senate Republicans with Governor Andrew Cuomo and Mayor Michael Bloomberg constituted an illegal violation. But the State Supreme Court stymied their hopes today and ruled in favor of New York State and gay marriage supporters.
"Accordingly, we conclude that the judgment should be reversed insofar as appealed from, and judgment should be entered in favor of defendants declaring that defendant New York State Senate did notviolate the OML in enacting the [Marriage Equality Act] and that marriages performed thereunder are not invalid," Acting Justice Robert Wiggins declared.
The State argued that a meeting with Senate Republicans was not subject to the Open Meeting Law, and that the legislation itself was passed during an open session of the State Senate. Although a lower court initially allowed the lawsuit to proceed, Mr. Wiggins felt the claims did not merit overturning the entire legislation.
He wrote, "Even assuming, arguendo, that the Bloomberg and Cuomo meetingsviolated the OML, we would not invalidate the MEA and the marriages performed thereunder."
Governor Cuomo, unsurprisingly, was buoyed by the good news, issuing a statement announcing, "The court's decision affirms that in our state, there is marriage equality for all, and with this decision New York continues to stand as a progressive leader for the nation."
View the ruling below:
[scribd id=99359946 key=key-1lallfnj01qbp6bvgtex mode=list]