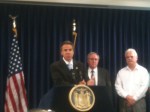 Forty-five minutes after a press release was sent out to reporters informing them that Con Edison had agreed to temporarily end the lockout of several thousand workers in advance of a major storm approaching the area, Gov. Andrew Cuomo appeared at a press conference in his midtown office building with the heads of both the utility and head of the local and national utility workers union.
The official reason for the press conference was to restate the press release: three thousand of the 8,500 workers would be returning to work until the storm and its clean-up were over, at which point the lockout will resume again.
The unofficial reason for the press conference was to note that Gov. Andrew Cuomo, who has been criticized by various elected officials and opinion makers for his reticence to get involved in the negotiation, is now fully engaged in bring the nearly month-long work stoppage to a close.
In fact, as soon as the press conference ended, representatives from management and the union met with representatives from the governor's office to continue the negotiations.
"I encourage an expeditious resolution," the governor said. "We are going to walk out of this room and people are going to continue to work on the contract."
Earlier today, the governor told reporters that he personally called the heads of Con Ed and the union to temporarily end the lockout.
"I picked up the telephone and I asked the gentlemen if they would be willing to join me this morning in the governor's office," Mr. Cuomo said. "Given the situation and the immediacy of the situation, I wanted to have a conversation. We talked about the problem and we fashioned this solution, jointly, amicably, and quickly, I would say."
He also said that he plans to have aides at the negotiating table with the two sides, and that he will "be at the table as needed."
Still, even with Mr. Cuomo's involvement, he declined to speculate on how much longer the lockout will continue.
"There is always light at the end of the tunnel," he said. "The question is how long is the tunnel."