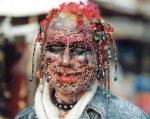 All those of you underage kids out there hoping to sneak out to the mall to get your septum stuck with pins will have to go around Gov. Andrew Cuomo.
A new bill he has written will require minors to get parental consent if they hope for any kind of body jewelry.
"Body piercing can result in severe health risks and it is our obligation as New Yorkers and parents to make sure that our teens are taking every precaution to remain healthy and safe," Governor Cuomo said. 
Until this bill was signed, there was no minimum age requirement for body piercing in New York State. The governor's office noted that by contrast, it is illegal to tattoo someone under the age of 18. And, they say, approximately 20% of all body piercing result in infection, and there is also a risk of contracting hepatitis from the procedure.
The legislation that Mr. Cuomo signed today requires that body piercing studios check the identification of teens, and that underage teens provide a consent form signed by a parent or legal guardian that was signed in the presence of the owner or body piercing specialist at a body piercing studio. A body piercing is a piercing located on a part of the body other than the ear. This law takes effect in 90 days.
The bill was sponsored in the Assembly by Michael Simanowitz of Queens.
This will now ensure that parents are aware of their son or daughter's intent to receive a body piercing which will hopefully prevent complications such as allergic reactions, skin infections or scarring," he said. "There are thirty one states that prohibit body piercing on minors without parental permission and I am now glad to say New York is the thirty second."