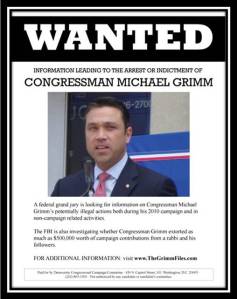 The Democratic Congressional Campaign Committee raised the stakes in its attacks on Staten Island Congressman Michael Grimm this morning by sending to reporters and distributing "wanted" posters around Capitol Hill for the embattled pol.
The flyers, the DCCC says, are an effort to raise awareness among Congressman Grimm's colleagues and their staffs about the questions surrounding the embattled Congressman who now faces an FBI investigation and, as reported  last week, a grand jury investigation.
"With FoxNews reporting that there is a federal investigation into both Congressman Grimm's campaign and non-campaign activities, it's important for lawmakers and their staffs to know who their neighbor is," said Josh Schwerin, Northeast Press Secretary at the Democratic Congressional Campaign Committee.  "It's well known that Congressman Grimm may have extorted $500,000 from a rabbi's congregation and he's facing FBI and grand jury investigations, but now there are brand new unanswered questions about non-campaign related investigations.  Since Congressman Grimm won't say, hopefully one of his colleagues will."
Mr. Schwerin added that his organization personally handed Mr. Grimm one of the flyers. Presumably, he wasn't amused.
Mr. Grimm is facing an increasingly competitive challenge from former public advocate aide Mark Murphy, who, unsurprisingly, is also milking these allegations againt the congressman for all they are worth.
View the full poster below:
[scribd id=101037054 key=key-25ynd6cfxn289j1r9g5r mode=list]