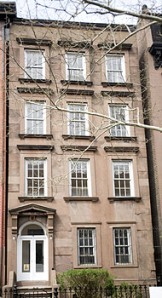 After reading the recent New York Times profile of Brooklyn's brightest literary light, a friend of The Observer wondered if there was another reason Martin Amis moved to Cobble Hill, one that had nothing to do with sending his daughters to St. Ann's.
Mr. Amis is married to Isabel Fonseca, a New York native and novelist dubbed "Funseeker" by the British tabs when she came between Mr. Amis and his first wife in the early-1990s.
More to our friend's particular point, Ms. Fonseca is the granddaughter of Welch Grape Juice tycoon Jacob Kaplan, and most likely a rather wealthy gal: A good thing, for no matter what high faith one puts in Andrew Wylie's abilities, it seems unlikely that the literary power couple purchased their $2.5 million Strong Place brownstone on book advances alone.
Mixed marriages are always tricky, as any tax lawyer will say, and they may have become trickier in 2008 for our learned pair. That's when the worldwide assets of non-domiciled U.K. residents who've lived in the country for at least 17 out of 20 years became subject to British levies.
That's according to Andrew Penman, London-based director of private client tax services at PKF LLP. Previously, a non-dom like Ms. Fonseca could avoid British taxes—which are generally higher than those paid in the U.S.—on assets not transferred into the U.K. Not so any more.
"It becomes an incremental cost," said Ryan Dudley, practice leader for the international tax services group at Friedman LLP. "Why pay 45 percent tax on most of my income? If I move to Florida, I pay 35 percent, then I'm done."
Ms. Fonseca appears to have lived in the U.K. since at least 1994, discounting a two-and-a-half year stint in her father's native Uruguay, prior to moving to Brooklyn last year. Mr. Amis, meanwhile, is known to be a matey sort, and perhaps the type not easily removed from his friends in London. Might it have been the tax implications, and not the draw of a "progressive education" for the Amis girls, that fetched the couple to Brooklyn?
To be sure, the two-time author, who once spent four years traveling amid Eastern European gypsies, has been talking to journalists about a stateside return for years. "Ms. Fonseca was homesick for America, and her husband is mostly happy to let her choose where they live, as long as he can write," is how The Times told itlast month.
Which very well may be. But as our inquisitive friend suggested, "Among the very rich, tax considerations usually trump all."