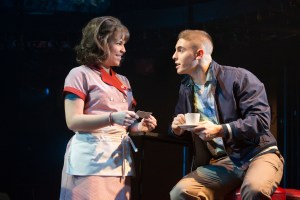 With so much mediocre junk currently polluting both stage and screen, it's encouraging to visit the modest but robustly entertaining new musical Dogfight at Second Stage. Under the solid direction of Joe Mantello, and based on the honest, compelling, enthusiastically received 1991 movie of the same name directed by Nancy Savoca that starred River Phoenix and Lili Taylor, Dogfight is about love and loneliness, coming of age under pressure, and two young misfits struggling for identity despite the cruelty of rejection.
Four years after Vietnam, on a Trailways bus headed for San Francisco, a morose and apprehensive Marine named Eddie Birdlace shows the veteran soldier in the next seat the three bees tattooed on his forearm symbolizing his three inseparable best buddies whose names began with the letter "b": Birdlace, Boland and Bernstein. A memory play begins, flooding the stage with flashbacks to 1963, a few weeks before the assassination of John F. Kennedy, telling the story of four raucous, naïve boys on the verge of manhood during their last night before being shipped overseas. The title refers to a sadistic contest called a "dogfight" in which the recruits hit the streets seeking a date. In the game, the biggest dog wins $100 for bringing back the ugliest girl for the judges' assessment and/or amusement. The guys are jerks and jarheads, cruising for "one last ride/on our last night stateside," singing "Goodbye to chili fries, to apple pies and Dinah Shore … So long to waffle cones, new Twilight Zones and Lesley Gore …" Bernstein picks up a fat Indian from Albuquerque at the bus station and Boland secretly breaks the rules by hiring a toothless hooker to win the jackpot. But Birdlace is the one who ends up with a conscience. All swagger, guileless about what's waiting on the other side of the globe, and pretending he's not afraid, he scores big with a "dog" named Rose—a plain, sensitive, painfully shy virgin who writes poetry and waits tables in her mom's diner. Rose is awkward, socially inept and a novice at romance, but falling for Birdlace's pretense at being an all-American Eagle Scout out of Leave it to Beaver, she takes a chance and goes on the date, clueless about what she's in for. Rose doesn't win the dogfight game (there are uglier girls than she at the drunken party) but her humiliation and rage when she learns she's been the butt of a heartless joke ("Isn't it funny … for a minute he convinced me I was pretty … funny," she sings tearfully in the privacy of her room) touches a chord in Birdlace that elicits the first apology of his life.
In Act II, Eddie and Rose reunite, and while his other buddies are off getting bee tattoos, he tries to make amends for his boorish behavior earlier in the evening by taking her to dinner in a fancy restaurant he can't afford, then returns to her frilly room above the diner to listen to her records. Weaned on brainless bubble-gum rock, this crude and inexperienced boy from Buffalo is awakened to more substantial stuff like Bob Dylan, Woody Guthrie and even a song Rose composed herself, which she sings and plays on her guitar. Overwhelmed by the intimacy, they end up spending the night together with nothing in common but a growing compassion for each other. He's ignorant and insecure, a volatile and basically unsympathetic person who drinks too much, curses obnoxiously and dreams of heroism in combat. She's sensitive and confused about boys, self-conscious about her homeliness, and dreams of being another Joan Baez. It turns out she is not the only virgin in the room. After a night in Rose's bed, fumbling for affection and refuge in each other's arms, their lives change in ways neither can fully analyze. His swagger is gone—and the story turns tender.
Four years later, Birdlace returns, broken and disillusioned by war. His fellow recruits who thought it would only take a few months to teach the geeks a lesson and return to "The Hometown Hero's Ticker Tape Parade" ("Cotton candy and lemonade/Can't get that at the penny arcade") are dead in the rice paddies and there is no homecoming. Nobody returns triumphant, no brass bands are waiting. Birdlace is the only survivor, and by the time his Trailways bus hits Frisco, he's the one who needs some tea and sympathy. Rose has taken over her mother's café, long since abandoning her ambition to be a folk singer. Both are still as vulnerable as they were the night of the dogfight; neither belongs anywhere. When they embrace, the looks on their faces tell a thousand epilogues, any one of which could melt the coldest heart.
Adapted by Peter Duchan from the earlier screenplay by ex-Marine Bob Comfort, and directed by Joe Mantello with simplicity and a refreshing lack of artifice, Dogfight works well as a musical. The pop music and cornball lyrics by Benj Pasek and Justin Paul are underwhelming ("You—born on a cloud/Angel so far, angel so fine … You—clear in a crowd/Answer my prayer, say you'll be mine!") but strangely, as the play takes shape, so does the score. The cast is uniformly terrific, especially Derek Klena as Birdlace, whose rough exterior and military buzz cut hide the fact that behind an unlikable slug an interesting human being wants to get out, and Lindsay Mendez, who sings beautifully and makes Rose a very special person trapped in a life of excess baggage. The show is really about seeing through the contradictions in people and watching them connect. Poignant, funny and totally endearing, Dogfight could turn out to be one of the surprise sleepers of the year.
rreed@observer.com