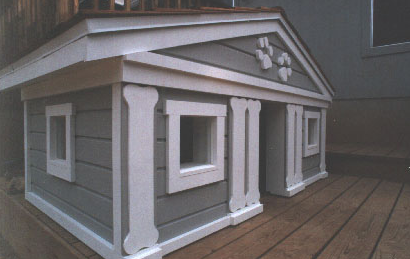 Your dog may already be able to roam freely around your palatial New York apartment, or spend every weekend frolicking at your "cottage" in the Hamptons, but doesn't every pooch deserve a place of her own? How about a $30,000 mini-manse that boasts stone flooring, running water, electricity?
Stacey Braverman, owner of Bitch New York, took an air of nonchalance with The Observer as she ticked off the list of amenities that owners like to include in their doggie sanctuaries—which cost an average of $7,500.
"The sky is the limit," she said. "It's like building a house."
She noted that it's not uncommon for an owner to request a nearly exact replica of his or her own home. She has even executed Hamptons-style cottages for dogs. This makes sense with most of her clientele coming from either Manhattan or the Hamptons.
But with some of the houses running as steep as $30,000, we have to wonder what the owner's home looks like.
Crazy? We think so. But apparently some owners are taking the canine couture to yet another level.
As reported by The New York Times, many of these doghouses (er, mansions?) serve purely decorative purposes.
Glenna and Ed Hall, owners of a whippet-borzio mix named Maggie May, told The Times that their pooch has never used its Palladian-style doggie mansion–an obviously worthwhile investment.
"We bought the house because it looks a lot like our house," Mrs. Hall told The Times. "Maggie's never been it. She's a house dog."
With that circular reasoning in tow, we're also scratching our heads at the new doggie concierge service being offered through Spot, a company that offers luxury dog services.
Residents of the Aldyn and the Ashley condos on the Upper West Side can now call on a canine concierge for doggie day care, cage free overnights, training and grooming, according to the New York Daily News.
The concierge services are part of a package that also includes move-in help, assistance finding cleaning services and even apartment sitters.
Looks like the dog days of summer are anything but for high-class canines.
sgrothjan@observer.com