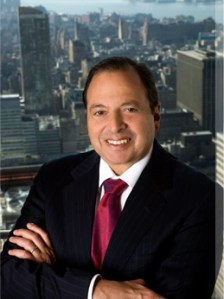 Leonine developer Douglas Durst might not be quite the public presence than his father Seymour once was—a regular in the letters to the editor column and on local talk shows, among other outlets for his restless mind—yet he still very much knows his way around a podium. Last week, he found himself in China, talking about New York, and he even seems to admit that the one investment his firm recently made just across the Formosa Strait might not have been its best.
"My experience is almost completely New York centric," Mr. Durst said at the China Alliance's US-China Investment Summit: Focus On New York Real Estate in Shenzen. "Our one experience outside of New York convinced us to stay in New York. Real Estate is always local."
He also, naturally, talked about his kids—it's now a fourth generation business!—and how building sustainably not only provides better buildings, and thus better income, for them, but also a better world. There was talk of 4 Times Square and 1 Bryant Park, but nothing about the widely anticipated, mildly concerning West 57th Street pyramid. The full speech is below.
My grandfather and father were in real estate and my father had a strict policy of not buying anything that wasn't within walking distance of his house.  I had the good fortune that he lived in mid-town Manhattan.

My experience is almost completely New York centric. Our one experience outside of New York convinced us to stay in New York. Real Estate is always local.

While some prefer to be diverse geographically, our diversity is over time. Our lease expirations are spread over time so that usually only 5 to 10 percent of our office portfolio expires each year, and the good years make up for the bad years.

This is not to say that one cannot invest over a diverse geography, but that to do so successfully you must have local talent involved.

I am very lucky to work in one of the most dynamic and challenging real estate cities.  My dad said to build in New York you need an architect, an engineer and two psychiatrists.

Today you need 2 architects, 2 engineers and 6 psychiatrists. The risk, competition and regulation is intense, but so is the reward.

New York has a unique formula for success.  For the past 400 years, from the earliest Dutch settlers to the 21st Century, the best and the brightest have come from across the globe to New York to make their fame and seek their fortune.

The city's tolerance, openness, acceptance of newcomers and insatiable appetite for innovation and creativity has insulated New York from the stagnation that has plagued many of the older US cities.

In the past, workers moved to where the jobs were, but New York's ability to attract young, educated talent has meant companies relocate here because New York is where the qualified employees are.

New York has always been a center for financial services, but the city also has thriving media, education legal, art and cultural sectors as well as a newly energized tech and new media sector.

The area south of the central Midtown business district was once a clothing manufacturing center, as these businesses left the area entered a dormant phase.

A few years ago, as tech start-up firms needed inexpensive office space they began populating South Mid-town.  Now vacancy is near zero, and rents are high.

This is the quintessential New York real estate success story.  Neighborhoods are transformed by the creative, talented and driven people that populate them creating opportunity for development.

New York's critical mass of talent also provides opportunities for traditional development—more along the lines of "build first and the people will come."

This is what my father and uncles did in the 1950s along Third Avenue and in the 1970s and 80s along Sixth Avenue.  Both thoroughfares were beyond the central business district when we began developing, but are now considered the heart of midtown.

Four Times Square and One Bryant Park are the Durst Organization's two most recently completed projects comprising more than 3.7 million square feet of office space on the block bounded by 6th Avenue, Broadway, 42nd Street next to Time Square.

The site sits atop nearly a dozen subway lines and is within walking district of three of the largest intermodal transportation hubs in North America.

Besides the environmental benefits of locating close to public transportation these building will remain desirable for decades because of the simple fact that they are easy to get to.

***

We are a family-run company in a business that is well suited for family-run operations.  Our freedom from the disclosure dictates and need to demonstrate quarterly profits of a public company allows us to develop for the long-term.

We rarely if ever sell our assets and plan for our children and grandchildren, not for the next earnings report.

Our long-term investment strategy compliments our commitment to sustainability.

We build more efficient buildings not only because they use less energy, are less expensive to operate, and provide a more productive work environment, but because we are focused on providing not just an economic future for our children, but a healthy one as well.

Our latest investment epitomizes this policy.  Two years ago we purchased a $100 million equity position in One World Trade Center and also became the buildings' manager, leasing agent and development adviser.

The short-term prospects for the building were challenging.   The building is perhaps the most complex ever built, the real-estate market has yet to recover and the competition for large tenants is intense.

When we became involved, the single tenant was Vantone's China Center for less than 10% of the 3.1 million sqft. Despite these risks we believed that New York and Lower Manhattan is a great bet and the benefits of new and sustainable construction provide a critical edge.

With the recent signing of a lease by the US Government, the building is now over 50% leased 2 years before it opens.

The real estate investment world is rapidly changing. My father's generation avoided partners and outside investors, but all of our recent developments include partners: The Port Authority at 1 World Trade Center, Bank of America at 1 Bryant Park, and Vantone at 855 6th Avenue.

In closing, I would like to say that wherever you invest, it is important to remember that real estate is a service industry, not a commodity.

Thank you for the opportunity to address you. I wish you good luck and am sure we will have a constructive and productive conference.