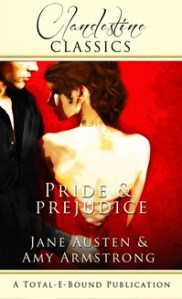 Thank you, statute of limitations on copyrighted material! Clandestine Classics, a subsidiary of Total-E-Bound publishing, has rewritten five of those stuffy British novelsyou were forced to read in English class and turned them into poorly-spelled BDSM sex stories. Unfortunately, these e-rotica e-books won't be available till July 30th (let the 12 day countdown begin!), but on the bright side, Clandestine has given readers a sneak peak to its 19th century knickers.
Let's read some excerpts (which are NSFW…as much as words can be NSFW), shall we?

Charlotte Bronte knows that it's not rape if she's sort of into it in this re-imagining of Jane Eyre:
I tried to pull away. Mr Rochester subdued me instantly. He forced me more firmly against his body. I felt the uncompromising strength of his chest against mine. To admit the truth to myself as well as others, I confess I didn't put up much of a fight. I wanted to be mastered. My struggles were more internal than external. I should not want this, but I did…
Put your hand between your legs, rub yourself if you must, but show me the moisture gathered on your fingertips." He kept his eyes on my face rather than looking down. In moments such as these—indeed in all moments—each act, each word, was deliberate.
It took some moments to fulfil his desire. Touching myself was still foreign to me. And touching myself while he watched was decadent; secretly, though I delighted in the act…
We know we'll all be imagining Jude Law reminiscing this randy rendition of Arthur Conan Doyle's Sherlock Holmes: A Study in Scarlet:
What I saw literally stole my breath for a few moments. Although I had to squint to bring the scene into focus, I was able to discern clearly, by the light of the moon, two naked bodies. At first I thought one of the men had enticed a female to the camp somehow, a female paid to engage in the act happening before me. But the sight of two cocks dashed my initial perception.
Pride & Prejudice is a no-brainer. It is a truth universally acknowledged, that a single woman in possession of WiFi, must be in want of Mr. Darcy erotica. (The only problem being that Mr. Darcy sex stories are maybe too prevalent?) Clandestine tries its hand at Jane Austen prose:
"Tell me you want me," he demanded. His voice was a deep rumble, husky and full of the promise of what was to come. "Tell me what you want from me."

Elizabeth brushed aside all lingering reticence and held his gaze as she replied. "I've never desired anything in my entire life as I desire you now. I want you inside me. I need it more than I need air."
A lesser known Jane Austin novel, Northanger Abbey, is best out of context:
Tilney's expression heated as he watched her. Do you fancy the taste, then?"

Catherine nodded mutely.
Finally, Jules Vernes gets a turn at the wheel in a depraved Twenty Thousand Leagues (that is already a great title for a sex story, really):
Conseil was ever my advisor and my confidante. He was one of those rare men who seem to be completely without attraction or desire, for women or for men. Although he certainly didn't share my proclivities, he had never condemned me for them either. "Speak, Conseil," I said at last.

"Master, the men on board pursue their pleasures, and we've all seen that buggery among sailors is common. But my Master would be wise to remember that he's not one of them. Men like Master have a larger place in society. They must be careful of their reputation."

I nodded, although in the darkness of our cabin, it was likely he couldn't see it. What he said was true. A common sailor had more liberties than a man of my stature. It would not do to have stories spread. "I'll be careful."
So wait, now any kind of erotic fan fiction can be sold as a book and possibly make millions? We have some old Angel/Spike slash-fic we need to dig up from our Buffy years…we could be sitting on a goldmine!