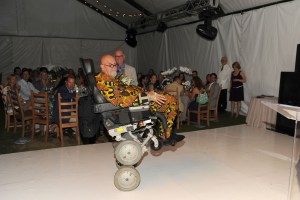 "We get everything from the real housewives to real chic," Deborah Bancroft, co-chair of the Parrish Art Museum, told The Observer Saturday evening, noting the varied attire of guests at the museum's annual Midsummer Party in Southampton.
She stealthily surveyed the room for prying ears that might take offense to her cheeky observation. Laughing it off and shifting her attention back to us, she continued, "That's the fun thing about the Parrish. I think because it leans artsy, you can get everything from moo moos to hula skirts."
We had just entered the museum and taken in the first exhibit. Its white walls were stippled with black-and-white renderings of New York landmarks, a monochrome Flatiron building pictured among its high-rise cohorts.
Ms. Bancroft motioned to the flat screen behind us, which displayed images of the progress of the Parrish's new $27M, 34,000 square-foot home.
"This is crumbling and charming," she said, referring to the museum's current digs. "The other is sleek and yet not über-modern. It really kind of reflects the shingled, weathered kind of East End look."
Guests scrummed around the screens and surveyed the project, which fostered a buzz about the new building and its fresh aesthetics within the already chatty crowd. The venue, Ms. Bancroft explained, is "artist-endorsed."
"It's reminiscent of a studio really," she added.
When the circulation of cocktails took a brief hiatus, a concerned guest inquired as to where we had nabbed our champagne. After motioning in the direction of a fresh round of drinks emerging from a back room, we queried her on the new museum and whether she'd seen its interior yet.
Unfortunately, she (and several other guests we chatted with throughout the night) had not. Though rumors of a selective hardhat tour had us pondering whether one could get an early peek inside, we later halted our probing when Jay Goldberg, assistant treasurer of the Parrish Art Museum, informed us that only "possible contributors" to the new museum are shown its interior, by the director on Sundays.
"This is kind of a say goodbye to the old museum and say hello to the new one," he told us of the evening's festivities.
We shifted our attention to two men in white suits—Tony Ingrao and Randy Kemper, interior designers being honored at the event.
On the accolade, Mr. Kemper said, "It's interesting because I think interior design is such a big part of art on the East End and I think a lot of the time that's overlooked. We deal with people with very big art collections. And we actually design the houses around the art collections, so it has a lot to do with art and how people live."
We turned to Mr. Ingrao, who, in his summer garb, fit in perfectly with the breezily elegant guests. We asked him what he was looking forward to at the event, expecting his response to focus on his role as an honoree.
"Uh, the afterparty," he answered matter-of-factly. Mr. Kemper chuckled in agreement.
We shifted our attention toward the director of the Parrish, Terrie Sultan, who was dressed in a simple black dress with sheer detailing at the shoulders. (We would meet her designer, Liliana Casabal of Morgane Le Fay, over dinner later.)
"It's just very important that everybody understand that the creative legacy of the East End of Long Island is all encompassing and in every generation," Ms. Sultan told The Observer, emphasizing the diverse array of visual artists who attended.
We moved to the second exhibit, a collection of Adam Bartos's photographs of Long Island life, before making our way to the boozier portion of the evening in a tented garden area.
Seated at a table that bordered the edge of the crowded tent was choreographer Paul Taylor and choreographer/director Patricia Birch.
"I'm the maverick who does a lot of junk," Ms. Birch divulged sarcastically, poking fun at her varied experience in the arts. "She's a variety pack," Mr. Taylor chimed in, laughing.
As we made our way back into the crowd, we spotted the artist Chuck Close seated close to the open bar, donning brightly colored garb and accompanied by his leggy girlfriend.
"Well I no longer live here, but I'm very supportive of Terrie and the museum," he told us about his being honored at the event.
On the topic of artist-museum relations, we then asked him about John Baldessari's decision to leave L.A.'s MoCA following the dismissal of the museum's curator.
"At least they had artists on the board," Mr. Close told us. "You have to have an artist on the board before they can quit. I was the only artist ever on the board in New York City when I was on the board of Whitney."
He laughed and continued, "It's always great, but then they'll tell you what they think, and they might tell you that you suck."
He added that Mr. Baldessari's decision to leave the board is not an unusual choice for artists.
"It's a struggle for the cultural life of an institution that wants one approach and an artist who wants another," he told us.
We moved on to a touchier matter: Scott Blake, an up-and-comer in the art realm with a zest for digital art and a knack for ticking off Mr. Close. He is perhaps best known for creating a digital Chuck Close filter, which could transform any image to resemble Close's trademark pixelated paintings. It was later sacked when he faced the threat of a lawsuit from Mr. Close.
"I'm not going to dig the fire," Mr. Close told us when we asked about his feelings toward Mr. Blake. "All he wants me to do is react. And if I do react, he'll quote me and put it in another piece."
We went more general and probed him about the concept of digital art.
"I made digital art before there was digital art," Mr. Close told us coyly, a smile stretching upward on his face. "I made it by hand."
He then motioned to his girlfriend, stationed not far from where we were standing.
"And my girlfriend likes digital art and video art," he told us. "I love it. It's not a moral decision, making a painting versus making something digital."
This seemed true to us, as we left Mr. Close to his evening and waded back into the crowd.
sgrothjan@observer.com