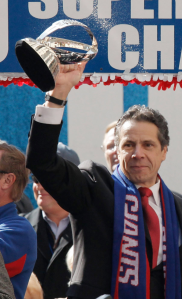 Former Governor Eliot Spitzer, debuting as a member of Inside City Hall's "Wise Guys" panel on NY1, thinks current Governor Andrew Cuomo should quietly encourage talk of him as a presidential candidate in 2016 as "a way to build and accentuate power." In particular, Mr. Spitzer thinks Mr. Cuomo is cleverly using his father, former Governor Mario Cuomo, as a pawn in that game, having him pitch his presidential prospects to private groups, for example.
"No, no,"  Mr. Spitzer asserted when asked if a potential presidential candidate should squash this sort of boosting. "Clearly you have somebody out there in Andrew's case, I presume, who's sparking the conversation. In his case it's his dad. It's a good co-conspirator in this game. On the other hand, you pretend that you're not paying any attention, you're only going to focus on doing the job because you don't want to seem to want it."
"But you want the chatter to continue because the chatter … is beneficial," he added. "It builds support, it permits people to join the team, it shows interest. In politics people measure you by what you think you will be next. And so the chatter is a way to build and accentuate power."
In the Inside City Hall discussion, former Senator Al D'Amato chimed in with his thoughts, namely that the presidential gossip is credit to Mr. Cuomo doing a good job as governor of the state. Mr. Spitzer, however, was more interested in how the current governor might shape the national political discussion.
"We can talk the substance as a separate issue, but I think in terms of political strategy, being talked of is important," he interjected. "Especially because we are completely New York-centric, that's our nature, we're kind of proud of it. … Having said that, there are other governors, senators around the nation who are also projecting themselves into that race. Governor O'Malley of Maryland [is] head of the DGA, on the Sunday talk shows, articulate smart. And so the chess game never stops. That's why either you're playing it or you're not. … You're always playing the chess game."
For his part, Mr. Cuomo constantly deflects 2016 chatter, admitting it's "flattering," but that he's completely focused on New York, not the nation.
Just hours ago, earlier this afternoon, the governor even dismissed the report about his father talking up his potential presidency, noting, "Now it's a father talking about a son, right, so it's — there's a certain amount of pride that you bring and you may not always be fully objective in talking about your child."