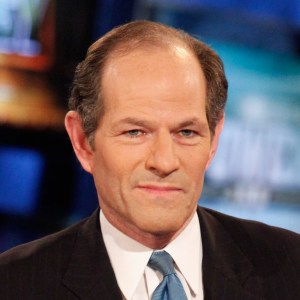 Former New York governor, Slate writer and Current TV host Eliot Spitzer is adding another media job to his resumé–contributor on NY1's nightly chat fest Inside City Hall. Starting July 10, Mr. Spitzer will join former Mayor Ed Koch and ex-Senator Al D'Amato as one of the show's "Wiseguys" who weigh in on hot political topics.
"I am delighted to be joining two of New York's sharpest political minds to discuss the important issues of the day," Mr. Spitzer said in a statement distributed by the local cable news network.
Both Messrs. Koch and D'Amato issued statements praising their new colleague.
"Former Governor Eliot Spitzer is one of the smartest people I know.  His joining Wiseguys broadens its political insights. Welcome aboard, Eliot," Mr. Koch said.
"Eliot will certainly add some spark to the Wiseguys. Look for more fireworks!" added Mr. D'Amato.
Prior to joining Current TV as a replacement for Keith Olbermann in March, Mr. Spitzer hosted a show on CNN until it was cancelled last July due to low ratings. Mr. Spitzer had a similarly ignominious exit from state government. He resigned as governor in March, 2008 due to a prostitution scandal.