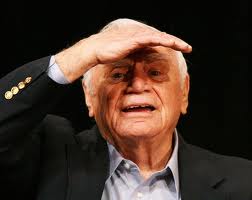 The Associated Press is reporting that Oscar-winning actor Ernest Borgnine has died. Mr. Borgnine reportedly passed away at Cedars-Sinai Medical Center on Sunday. Mr. Borgnine, who won an Academy Award in 1955 for his portrayal of the title character in Marty, was surrounded by family when he died.
A beloved television character actor in his later years, Mr. Borgnine was a constant presence on the small screen for more than 40 years, from playing the lead in archetypal 1960s sitcom McHale's Navy to lending his voice to a character on SpongeBob SquarePants. In 2009 Mr. Borgnine's poignant guest performance in a role on ER led to his last Emmy nomination, for Outstanding Guest Actor in a Drama.
Mr. Borgnine was 95 years old.