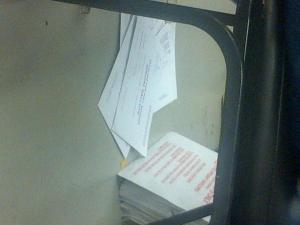 State Senator Adriano Espaillat certainly can't be be accused of sitting down after his reported loss to veteran Rep. Charlie Rangel in last Tuesday's Democratic primary. As Mr. Rangel's lead whittled down to just 802 votes over the weekend, the Espaillat campaign hired election law guru Marty Connor and promoted a hotline available for voters to register complaints about Election Day shenanigans. A State Supreme Court will hear an injunction request from Mr. Espaillat today and the Board of Elections will start counting more than 2,000 affidavit ballots Thursday morning.
"As the New York State Supreme Court considers the serious voting-access and counting issues in the 13th Congressional District election, we are pleased to welcome Marty Connor to lead our legal team," Mr. Espaillat's spokesman, Ibrahim Khan, said in a press release. "Our campaign will continue to push for every vote to be counted in a transparent and democratic process."
And Mr. Connor, a former Minority Leader of the New York State Senate, certainly has experience in close elections. He was recently the lead lawyer for Lew Fidler's ultimately unsuccessful state senate campaign where the winning margin was a mere 13 votes.
Mr. Espaillat's campaign also made a statement available from the Dominican American National Roundtable, which called for the U.S. Department of Justice to step in and monitor the proceedings and provided a hotline available for individuals to share anecdotes of voter suppression. Mr. Espaillat, who would be the first Dominican American congressman if elected, had his largest base of support in the Dominican community.
"As a national organization that closely monitors public affairs in the Latino community, in general, and the Dominican Community, in particular, we have witnessed disturbing allegations of voter suppression and lack of transparency in the 13th Congressional District election," Dr. Maria Teresa Montilla, the organization's president, said. "We are calling on the United States Department of Justice to take immediate action to monitor the Board of Elections' proceedings and resolve issues that threaten the constitutionally guaranteed voting rights of all Americans. We are also appealing to any voters who encountered any barriers to the ballot box, including misinformation and lack of interpretation services, to call-in to a voter hotline we have established and help us document voter suppression complaints."
For its part, Mr. Rangel's campaign has maintained confidence that their candidate will be returning to Washington next year. This is a fairly rational position as that 802-vote margin will be a very tall order for Mr. Espaillat to make up.