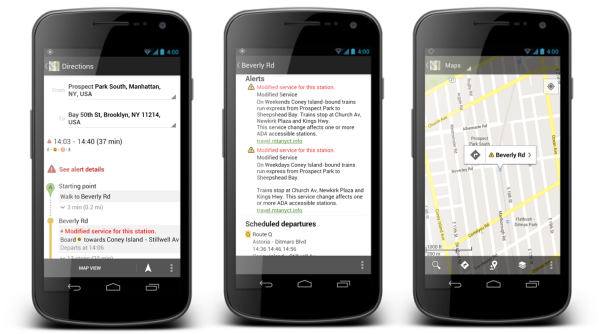 In its progressive/penny-pinching efforts to be a tech-forward transit agency, the MTA has outsourced much of its app development to outside firms and open-source programmers. Among the innovations out there, this meant the MTA's official trip planner was integrated with Google Maps, as has been the case since 2008. The future is now!
This is good, because the MTA is often broken down and under repair in reality, so digitally would mean even more problems. But that is also where the interfaces did not connect: There was no integration between the Google Map routes and the MTA Service Alerts that warned straphangers about construction- and emergency-related service changes. That changes today.
Google has announced that it will now feature service alerts on its web and mobile map apps, and will offer alternate routes for riders.
Part of the frustration with this disconnect was the fact that the whole reason for turning to the trip finder, since every New Yorker knows the Subway by heart and would never need to look anything up, is that you know the E is not running and you need to get from Greenpoint to MoMA and maybe the 7 is being funny, too, so what the hell should you do? Had you turned to the MTA's official map in the past, the answer would have been, take the G to the E. Sad face.
But no longer, as Google explains on the Lat Log:
Have you ever arrived at a subway platform only to find that the train you intended to take is skipping stops, rerouted on another line, or isn't running at all due to scheduled maintenance? Now when you click on any of the 468 New York City subway stations labeled on Google Maps, you'll see whether any planned service changes are expected to affect that station at the time. In addition, the relevant alerts will be included in the step-by-step transit directions pointing you wherever you're going.
Google also notes that this only works on the web and Android phones. Why not iPhones? Because Apple, like Republicans, hates mass transit.