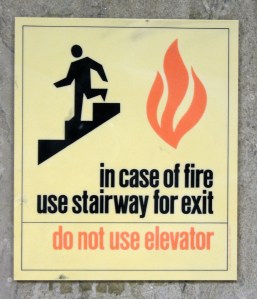 There's never a shortage of stories about negligent apartment managers and landlords, and the overlords at Stuyvesant Town and Peter Cooper Village have proved that they are not the exception. As charming as this 25,000-resident complex in the East Village seems with its brick exteriors and tree-lined paths, everything is not peachy-keen.
A recent FDNY inspection has found that a number of fire code violations exist in the complex's 110 buildings, according to the Post. Several fire doors don't close properly, a few hundred apartment doors don't close or latch on their own, and the stairwells, which serve as emergency exits, have become toxic wastelands.
"[This] presents a very real danger to the lives and safety of the residents of the community," Al Doyle, the former president of the Tenants Association, wrote in a letter to the FDNY. You think?
A tenant survey conducted in the spring also found that the stairwells have become the preferred bathroom for some tenants, as well as hot spots for alcohol, tobacco and drug use.
The FDNY has set a date for when the Peter Cooper Village/Stuyvesant Town complex must fix the violations, one that Sean Sullivan, the general manager of the complex, told DNAinfo he is not worried about meeting. "We take fire safety very seriously," he said, adding that "all issues [will be] resolved well before the FDNY's required timeframe."
As for the illicit activities taking place in the stairwells, Mr. Sullivan hopes that residents (that is, civilized, reasonably normal residents) will rat the wrongdoers out. Here's hoping they do.