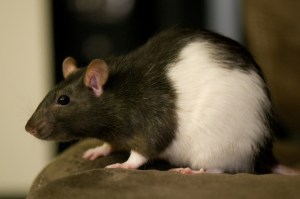 Last night in the basement of the Allegra La Viola gallery on the Lower East Side, about 20 brave eaters gathered over five courses dedicated to one ingredient, providing the ultimate locavore eating experience a New Yorker could have: rat.
To participate in the evening's program, a work by artist Laura Ginn titled "Tomorrow We Will Feast Again on What We Catch," they had each paid $100 to dine upon the ragged pests normally seen scurrying across subway rails and digging through garbage cans.
After attendees signed a generic liability waiver and agreed not to take photographs, the artist greeted them warmly, and watched with delight as the full spectacle of her outfit washed over them. The one-shoulder, knee-length cocktail dress was constructed entirely of two hundred rat pelts (tails and all), which she told The Observer she had tanned herself and stitched together over the course of two days. It was quite stylish, actually, with white fur at the top shading into gray fur at the bottom, a sort of murine ombre. Her toenails, peeking out from wooden platform sandals, were painted gray to match.
"I'm going to be on the cover of Vogue: the post-apocalypse issue," she joked.
Ms. Ginn's work explores self-sufficiency and survivalism, with an underlying acknowledgment of existential risk. A recent MFA graduate from Cranbrook Academy of Art, she hails from the Detroit area, the locale that spawned an entire new genre of art: "ruin porn."
The stairs to the basement where dinner was held were spotted with white-paint cat footprints. What ordinarily would have been a charming accidental design detail garnered during construction was now imbued with new meaning; we were seeking the exact sustenance that this ghost cat once had.
The dining room was decorated sparsely, with two large plywood tables draped in bleached-out American flags (one of them embroidered by Ms. Ginn with a quote plucked, rather strangely, from the ABC Family series Greek: "To a new world, gentlemen. Good riddance to the things we hated and may we not miss the things we loved.") and littered with small piles of clean, white rat bones. Two men played drums in the corner. On the wall a photograph depicted a rack of pelts drying in her shower, Suave bottles and all. Elsewhere, a looped video projection showed the artist smashing a deer's head with a massive rock a dozen times and then digging the brain out with a knife.
Diners took their seats on stylish but uncomfortable collapsible tripod stools designed and constructed by the artist, many people confusing the carrying strap as an accessory and wearing it on their wrist.
The first course consisted of a goat cheese crostini overlain with a small piece of rat meat and a shot glass of (rat-free) gazpacho. Diners at our end of the table noted that the goat cheese mostly overwhelmed the rat, but we found the flavor and texture reminiscent of lamb.
Next came two circles of rat and pork terrine over a deconstructed salad containing cherries, greens, pickled carrots and Mexican sour gherkins (also known as mouse melons—clever menu planning). Though oily (hardly a criticism, it's a terrine for god's sake), it was salty and delicious.
"Rat Two Ways" was the main course. Reminiscent of rabbit, a pile of braised rat was so tender it fell apart as soon as our fork touched it. A roasted half rat—glazed meat stretched over its tiny rib cage—was placed over a sweet corn salad. Throughout the evening, Ms. Ginn continually paced around the table, making conversation generously filling wine glasses, but for this course she hunkered down and performatively sucked the meat off the bones.
After a palate cleanser (much needed for a few reluctant friends of the artist, who came along more for moral support than dinner) of lemon sorbet dressed with an edible flower, we were served a dessert of French toast with the closest thing to bacon the chef and artist could summon from a rodent: a sliver of crispy rat jerky. As the most dramatic plating of the evening, an entire crispy rat head sat on each plate, mouth open and teeth jutting forward, and a back leg sat atop the French toast, toes and claws clearly visible.
The meal was touted as a "post-apocalyptic hunter-gatherer feast." The gallery's site notes that "allowance to current social memes" would be made, and in this way, despite the American taboo of the main ingredient which is widely eaten in other parts of the world, it was a completely authentic contemporary New York dining experience—on offer were upscale versions of a "low class" food, spirited with an imagined nostalgia and a hobbyist approach to survival skills. It occurred to us that cooking with rat is a slightly less socially acceptable version of taking up pickling as a hobby, drinking small-batch moonshine and paying $15 for grits at Sunday brunch.
All of that said, the dinner was no joke. Ms. La Viola told us that chef Yuri Hart and Ms. Ginn had been carefully planning for the meal for over a year, and had spent the last four days in furious preparation. The rats were ordered in bulk and arrived whole, unskinned and frozen ("You should have seen my freezer," Ms. La Viola said. "I gave over my entire house to this.") and as such required much prep work. And in fact, this was not the first time Ms. Ginn had offered rat meat to her audience as part of her work. Just ten days earlier at the Atlanta Contemporary Art Center, where some of her work is currently on view, she hosted a rat skinning workshop, after which participants put their naked rats on tiny spits and barbecued them, eating them right off the stick.
The mood at dinner was jovial; these were adventure eaters collecting the anecdote to top all New York anecdotes. But some were not as enthusiastic. An artist colleague of Ms. Ginn sat back (he was lucky enough to nab a real chair) and grimaced at one point, repeating at least three times, "Nasty." During the french toast dessert course, one brazen woman picked up the rat head from her plate and toyed with its jaw. "Oh, it clicked closed!" she delighted, and then dragged her teeth along the cheek for a bit of rat jerky. The woman seated next to her, who had been enjoying her meal if not cleaning her plate, shook her head and pushed her own plate away. She'd had enough.
The conversation naturally turned to each eater's own experience skinning or preparing animals. One man, a graphic designer, had skinned and eaten a nutria while shooting an adventurous eating show for a reality TV pilot. (The only thing harder to imagine eating than a rat is a bigger, grosser swamp rat.)
Subway rat stories abounded. The girlfriend of the chef—a former vegetarian, she gleefully informed us—described a recent underground encounter with a rat as she ate. "I was at the Bedford stop, and as I walked toward the stairs, I heard the squealing of what must have been a rat dying or in a fight. Squealing, squealing, squealing, it was horrible—you see them all the time, but you never see or hear them dying. I literally broke into a run to get away from it," she laughed. "And now I am eating them."