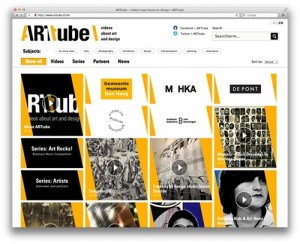 Five museums in the Netherlands and Belgium joined together today to unveil ARTtube , a bilingual video sharing website that boasts contributions from The Stedelijk Museum Amsterdam, Gemeentemuseum Den Haag in the Hague, the Museum De Pont in Tilburg, M HKA in Antwerp and the Museum Boijmans Van Beuningen in Rotterdam. The sleek black and yellow site features interviews with artists, behind-the-scenes looks at artwork restoration and exhibition construction and, of course, artist films, many of which can also be viewed in English or with English subtitles.
The Museum Boijmans Van Beuningen has been posting videos to its site since 2009, which means the museum now offers over 200 films there.
"We are pleased that our platform is such a success and that we can now, thanks to the SNS REAAL Fund, expand it further together with four other museums," said Sjarel Ex, director of the Museum Boijmans Van Beuningen in a press release, with a nod to the Dutch bank that provided most of the funding for the site.
Videos include an interview with textile designer Frans Dijkmeijer and an animated tour through the Museum Boijmans Van Beuiningen drawn by Jan Rothuizen. One video, "Memory – Black Drawings by Marlene Dumas," flashes over the collection of Dumas' facial drawings at the De Pont museum while a pivotal speech by Nelson Mandela plays in the background.
This will be the first online collaboration between Dutch museums and is now the largest video-sharing site for art in the Netherlands. The site will continue to grow over the next few years, and the museums hope to attract over 500,000 viewers per year by 2014.
The five museums are currently working together to produce a video series titled, "We Love Art," about "the role and the value of art in people's lives," according to Sandra Fauconnier, ARTtube project leader, in an email to The Observer.  Look out for the museums's "We Love Art" series in early 2013. Ms. Fauconnier, who has worked on other videos for museums, even gave us a reason to so do.
"We notice that videos featuring a hint of nudity tend to become popular," she added.