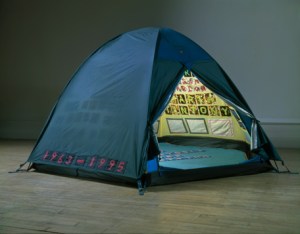 In 2004, a fire at an art-storage facility in London run by a company called Momart destroyed works by some 100 artists, including Tracey Emin's iconic camping-tent sculpture Everyone I Have Ever Slept With 1963–1995 (1995). There are no plans to reconstruct the work. "It took me six months to make," Ms. Emin has said. "I couldn't remake that time in my life any more than I could remake the piece."
Though no one will never again have the chance to crawl into the work, those who are curious about it now have access to a smart, succinct selection of study materials, thanks to a new website that is sponsored by the Tate and written up by Guardian critic Jonathan Jones in today's paper. It is called the Gallery of Lost Art, and it is wonderful, pretty much guaranteed to burn up hours of your time.
At the moment the GLA is showcasing 21 works of "lost art" in the form of impressive dossiers—replete with interviews, archival photographs and essays—that take a close look at modern and contemporary pieces that have been destroyed or lost, were stolen or erased.
Among the works in the gallery are Daniel Buren's 1971 installation for the Guggenheim's rotunda that the museum rejected, Paul Thek's 1967 Tomb, which a storage company (probably) discarded in the 1980s, and Rachel Whiteread's monumental public work House (1993), which was destroyed, as the artist intended (albeit only after a failed attempt to extend its existence).
There are more works on the way, like Richard Serra's Tilted Arc (1981), which was removed from a plaza in downtown Manhattan, and Vladimir Tatlin's never-completed Monument to the Third International.
Tate's head of content, Jane Burton, told Mr. Jones of the project, "We thought if we could capture the traces of these works, we could bring them back to consciousness." They have succeeded. Now it would be thrilling if more museums were invited to join the project, helping to assemble materials. No doubt there are many interesting bits of information about the 21 works already on view secreted away in various museum archives around the world. With time and effort, the Gallery of Lost Art could become a truly epic, unprecedented resource.
For now, take a look at the website.