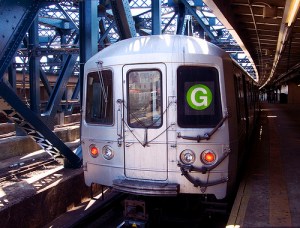 They'll be celebrating in Park Slope, Windsor Terrace and Kennsington tonight.
Never heard of these neighborhoods? Clearly, you are not a G-train rider (nor lover of shockingly affordable and spacious apartments), for this is the land the G almost forgot. The MTA was poised to stop the G-Train at Smith and 9th Street station, as it had been for years, until construction on the Culver viaduct necessitated an extension of the line a further five stops.
South Brooklyn straphangers have been lobbying the MTA to keep the extension in place for months, as the reopening the under-repair stations loomed (and was inevitably pushed back). In an unexpected move, the decision to keep the extension, reported in the Daily News today, was lumped in with the agency's plans to resume another of other bus and train routes cancelled during budget woes two years ago.
The list wasn't finalized as of Friday, but one of the winners will likely be Red Hook, the underserved neighborhood where the subway isn't an option and where community activists and Transport Workers Union Local 100 have been active in organizing for improvements.

Red Hook was stripped of two bus routes — the B77 and the B75 — and the B61 that survived either runs too infrequently or is too crowded to board. "I walk 20 blocks every day to get to the subway, rather than wait a half-hour to get on a bus," Robert Berrios, 44, a clerk from Red Hook, complained to the MTA board last month.

Another top candidate for a service boost is Bay Ridge, where part of the B64 was erased from the map, another source said.
Lines in Brooklyn and the Bronx are expected to be the biggest beneficiaries, yet further proof on how the two boroughs are so similar and yet so different.