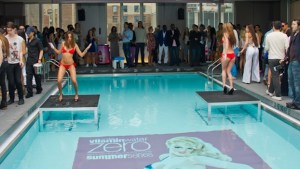 Maybe residents of lower Park Avenue thought they'd see their property values rise with the introduction of an (ostensibly) hip, expensive, shiny Gansevoort Hotel in their neighborhood. After all, the hotel was one of the first signs that the nu-Meatpacking District had become a nightlife beast onto itself; how could this not work out well for local residents?
In so many ways, including those they likely couldn't anticipate, like the fact that the Kardashians hole up there while filming their reality show. And yet, the one that is causing the largest rift between neighborhood residents and the hotel seemed, well, kind of inevitable?
The New York Post spoke with several Park Ave residents who have to hear, watch, and feel the distinct…power…of the hotel's rooftop pool parties. These aren't even cranky old-timers with issues. A 24-year old guy, right here:
"I try to not be home on Sundays. The last thing you want are a bunch of crazy people with loud techno music until 8 or 9 p.m.," said frustrated local Greg Housset, 24, looking down from his apartment Sunday at the mob of hard-partying revelers packed like sardines on the hotel's pool deck as turntable star DJ Chuckie spun booming dance tunes.
Ah, yes, the sweet sounds of DJ Chuckie and the joyous noise of young B & T splashing their way through the summer. Who
wouldn't
want that? The parties go from 3PM until 8PM, and—pity this poor guy, who spoke to a reporter in the name of public service—are
Annoyance, Incarnate
:
Cheaper bottles [of champagne] go for $200 — but the well-heeled guests buy those only to spray one another, said pool worker Dylan Nowik, 20, of Bushwick, Brooklyn, who wore earplugs to work Sunday. "People start drinking, and it gets crazy," he said.
Crazy, like what reformed Eurotrash who hope they don't have to go back to the Drachma think when watching the Tri-State area's finest B & T piss away their cash on a 400% markup of corked Martinelli's that's been spiked with hooch, still, in 2012.
Also, like you'd have to be to think letting this hotel into one's neighborhood would end well, or at the very least, with anything remotely resembling consideration for those who live there.
Next time, when you're living as a recluse in rural Maine, you'll know better.
fkamer@observer.com | @weareyourfek