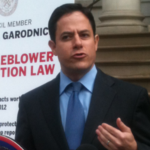 Comptroller candidate Dan Garodnick is set to announce this morning that he has received the endorsement of Diana Reyna and Rosie Mendez, two of his colleagues in the City Council.
The endorsement is the first out-of-the-gate in the 2013 cycle for any citywide candidate, and is significant on a few levels.
First, both Ms. Reyna and Ms. Mendez are Hispanic, giving Mr. Garodnick support from a crucial voting block in a race that is still a year away. The field for the seat is far from set, and there is of course an incumbent–John Liu, who is facing a federal investigation into his campaign finance operation–but the early endorsements for Mr. Garodnick speak to the importance of starting early. Domenic Recchia, who is also in the City Council, is considered a likely candidate for the job, but if Mr. Liu runs again, he will have to rely on the same coalition of African-American, Hispanic and Asian voters that vaulted him into the seat in 2009, and the support of Ms. Reyna and Ms. Mendez for Mr. Garodnick could be a sign that that coalition is crumbling.
An email from the two council members is going out to supporters of Mr. Garodnick's this morning, and it is reprinted below:
Dear New Yorkers,

We serve with Dan Garodnick on the City Council and are proud to announce that we are supporting him for City Comptroller.

We come from different boroughs – Rosie represents neighborhoods on the East and Lower East Side of Manhattan; Diana represents neighborhoods in Brooklyn and Queens – but we come together to support Dan.

Dan Garodnick is an outstanding leader for our city. Having served with him in the City Council for more than six years, we know he has a record of fighting for consumers and taxpayers – and the judgment and maturity to guide our City's finances in the coming years.

Dan has worked on the kinds of issues – protecting consumers from rip-offs, protecting our tax dollars from being wasted by fraud, protecting tenants from abusive landlords – that our constituents and all New Yorkers care about.

We don't usually endorse candidates this early in the cycle. Few people do – as far as we know, ours are the first endorsements by any elected official in a 2013 citywide race. But to us the choice is clear. Dan Garodnick is so well-qualified for this office that there is no reason for us to wait.

Thank you for supporting Dan Garodnick – we look forward to working together with you over the next 14 months to make him the next City Comptroller.

Sincerely,

Rosie Mendez
NYC Councilmember

Diana Reyna
NYC Councilmember