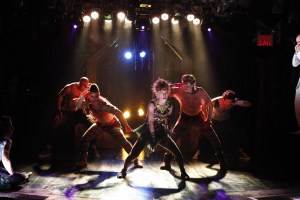 Several years ago, when Marshall Pailet was an undergrad at Yale studying intellectual history, an acquaintance planted it in his head that Jurassic Park would make a great ballet. When he graduated, in 2009, the idea of dancing dinosaurs was still with him. Today he is more than happy to admit that Triassic Parq: The Musical, which opened June 27 at the SoHo Playhouse, "started with a stupid idea."
The show isn't a ballet, but it honors the film with song and dance, and it's narrated by Morgan Freeman (well, sort of). Mr. Pailet debuted Triassic Parq at the New York International Fringe Festival in 2010. The show won the Best Musical award that year, but it was still rough around the edges. "What worked really well about the Fringe festival production," Mr. Pailet said during a recent interview, "is the idea was there, and the humor was really random. We really liked that, but the structure of the plot was also really random and we didn't have a protagonist and there was no arc to the show." Along with coauthors Bryce Norbitz and Steve Wargo, he set out to clean it up.
What's left is the story of the Velociraptor of Innocence, a girly-girl of a dinosaur—played in the present production by Alex Wyse, a man—who only wants to protect her community. The dinosaurs are in one of their daily worship services with dino-pastor the Velociraptor of Faith (played by Wade Collum, who insists you call him Mama), when their world is shattered. T-Rex 2 mysteriously develops a penis. The Velociraptor of Innocence sets out on a slightly odd but understandable quest: how do I get rid of my friend's penis so she doesn't have to leave the tribe? That turns into exploration of gender identity, sexuality, faith—and the elusive nature of Morgan Freeman.
Maybe the strangest thing about Triassic Parq, which got a generally upbeat review last week in The Times ("… overproduced and scattershot and a little bit desperate. It is also more than a little bit fun"), is that its producers and actors don't think it's all that strange. "When you go 'Oh, I'm doing a show,' you'd be shocked by the number of people who think, 'Another young person just out of college putting out a show, oh great. This is gonna be yawn-o-rama,'" said Lee Seymour. A close friend of Mr. Pailet's from Yale and one-third of the production company Flying Squirrel, he is one of Triassic Parq's producers and the actor who plays Morgan Freeman. "And then you say, 'no, actually, it's Jurassic Park told from the point of view of the dinosaurs narrated by Morgan Freeman,' and immediately they do a double take. Those three things—dinosaurs, Jurassic Park and Morgan Freeman—really do kind of get people's interest."
What gets people's interest when they walk into the theater is a pre-show "dinosaur jungle soundscape," as Mr. Pailet calls it. "It makes people think they're about to see bad theme park entertainment," he said. "We like them to not know what's coming, because then it's that much more fun when they key into what story we're telling."
That surprise factor is what got Amas Musical Theatre onboard as a producing partner. "One of the things I think is really clever about the show is that it's constantly surprising," said Amas producing artistic director Donna Trinkoff. "There's always something happening that I didn't see coming." Amas has been telling the stories of people across a wide selection of cultures—advancing the voices of marginalized groups—for more than 40 years through shows like Wanda's World and Big Maybelle: Soul of the Blues, and Ms. Trinkoff doesn't think dancing dinos are necessarily at odds with the company's goals. "I guess in some ways this comedy is a little different than what we've done in the recent past but it's not outside our ken." Amas, she said, tends to stick to more family-friendly fare but Triassic Parq was worth the change. "The humor is so spot on and, in spite of what seems like total entertainment, it has a real message." On seeing its first staged reading, she said she was "intrigued by the gender identity aspect of the show." Mr. Pailet, who started his project as a fanboy love letter to the film, agrees it's bigger than dinosaurs. "Pretty quickly after we started writing, I think we realized it was turning into something else," he said. "The goal of this production is to tell a very human story about identity crisis through the very goofy and wacky lens of these actors playing dinosaurs." T-Rex 2 has to deal with the physical and emotional changes her body puts her through, but all the members of the tribe start trying to figure out who they are.
It's all a bit baroque, but suffice to say that T-Rex 2 and Velociraptor of Innocence's identity crises are also crises of faith. Mama preaches the gospel of the almighty Lab, a belief system in which the scientists are agents of Lab, the power that blesses the dinosaurs with a fresh goat each morning. After Innocence's quest leads her to learn about where baby raptors come from, she starts doubting both Mama and the holy Lab. While this secondary theme leaves room for hilarious gender-bending sex scenes, the issues of faith resonate with Mr. Pailet, who was raised Jewish and, by his own account, "spent a lot of time in college studying many different faiths and trying to figure out what it was that attracted me and also repelled me." For Ms. Trinkoff, faith is a big selling point of the show, one of the things that serves to humanize the ancient beasts. "They're like a primitive human tribe that's trying to make sense of a universe that's presented in a very incomprehensible manner. What is religion? How do we survive? Where is the spirituality in our lives? How do we find that?"
So, you are probably wondering, where does Morgan Freeman come into all this? Mr. Seymour, the actor who does the "Morgan Freeman" narration, spent a year studying Shakespeare in London and finds his training is coming in handy. "Morgan Freeman is the Shakespearean archetype of the guy at the opening of Henry V who sets the stage and then kind of brings the audience into the world of the show." The world of this show may be one of braided rubber penises but it's also one that takes drama seriously. "This is silly but I before I go on stage I always recite the entire 'to be or not to be' soliloquy as Morgan Freeman to get in the right mindset of seriousness and truth."
Singing dinosaurs may not have the answers to the Big Questions—that would be a tall order for humans in 90 minutes—but they might be able to remind us to laugh while we try to figure it all out.
editorial@observer.com