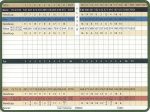 It's earnings season on Wall Street, and earnings at the biggest financial firms have been mostly down, lower profit means paring expenses, cost-saving means cutting comp, or showing some employees the door. And indeed, the 18,000 jobs The Wall Street Journal says the six biggest U.S. banks have cut in the last year are just the start.
Bank of America is expected to increase the rate at which it sheds jobs, and Morgan Stanley chief executive James Gorman indicated that the firm will add by subtracting about 4,000 bodies over the course of 2012.
Goldman Sachs, meanwhile, may seek an additional $500 million in cost savings in 2012 by hiring on the cheap—expect "a more junior and less senior weighted headcount," chief financial officer David Viniar told investors this week.
Even Wells Fargo, which said profit rose 17 percent in the second quarter, is preparing for leaner times. Costs "are still too high…given the operating environment," CEO John Stumpf said on his earnings call.
In case you're keeping score, here are the latest to cross the wire:
Citigroup (C): Plans to cut 350 jobs in its securities division, which includes investment banking and trading, according to Bloomberg.
Credit Suisse: To do away with 138 Manhattan-based positions by October, per a Department of Labor filing.
Deutsche Bank: Thinking about eliminating 1,000 jobs in its investment bank, also according to Bloomberg.