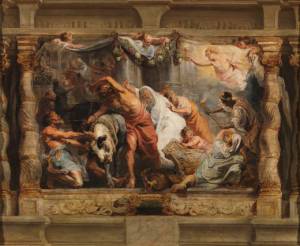 The various Getty organizations just cannot stop helping museums conserve and restore their masterpieces!
Last month, the Getty Center announced it would restore the University of Iowa's prime Jackson Pollock, the 1943 Mural, in exchange for the chance to display it for three months. Now the Getty Foundation has announced that it will give $390,000 to the Prado in Madrid so that it can restore Peter Paul Rubens's six-panel 1625-26 painting Triumph of the Eucharist Over Idolatry.
The grant is part of the Getty's Panel Paintings Initiative, which previously guided the conservation of the Prado's Adam and Eve by Albrecht Dürer. The Getty's release has some fine background information on the works:
These paintings on panel were commissioned by the deeply religious Infanta Isabella Clara Eugenia, ruler of the Southern Netherlands and a member of the Spanish royal family, as studies for large, extravagant tapestries to be hung in the convent Clares de Descalzas Reales in Madrid, where they hang to this day.