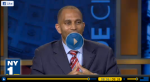 Hakeem Jeffries sat in on his first NY1 post-election interview with Errol Lewis last night, and the conversation between the two veered into a list of who has and has not called the Democratic nominee in the 8th congressional district.
The list of people Mr. Jeffries has not spoken with includes Charles Barron, the City Councilman he defeated to win the seat, and Ed Towns, the retiring congressman who Mr. Jeffries helped retire by running a strong campaign in the early going and who thanked him by endorsing Mr. Barron.
The list of people Mr. Jeffries has spoken with includes Sen. Chuck Schumer, Congresswoman Yvette Clark and Congressman Jerry Nadler, as well he said, as other members of the New York delegation and senior members of Congress down in Washington. 
When Mr. Lewis suggested that the silence from Mr. Towns may hurt the transition, Mr. Jeffries noted that he expected to speak to "the 30-year incumbent" shortly–a possible dig at Mr. Towns long and largely ineffective tenure, and a dig that isn't likely to facilitate communication–and that he had been in touch with his chief of staff.
Mr. Jeffries declined however to get further shots in at Mr. Barron, whom he described a loquacious individual with a job to do in the City Council.
Finally, the talk turned to an issue that has been roiling the world around the congressman-elect quite a bit in recent days–his support for money for yeshiva and other religious and non-public schools.
Mr. Jeffries noted that he sends both of his children to public school, and said, "It is our obligation to look at creative ways by which we can help others, parents who make a decision to send their children to a Christian school, a Yeshiva education or a Muslim school.
The full thing can be viewed here.