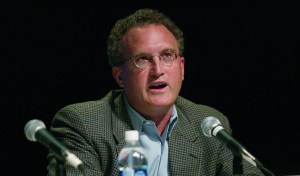 In a bit of holiday-appropriate news, The Atlantic national correspondent Mark Bowden has sold a book about the death of Osama Bin Laden to Morgan Entrekin at Grove/Atlantic, reports Publishers Marketplace. The book, to be published in October 2012, is "an account of the Bin Laden strike written in Bowden's signature 'you are there' style, going inside the war room as decisions were made and onto the ground as directives were executed." It's titled The Finish: The Killing of Osama Bin Laden.
The Finish seems ripe for cinematic adaptation—as Mr. Bowden's career-making book, Black Hawk Down, was—but any movie version would likely have to compete with The Hurt Locker director Kathryn Bigelow and writer Mark Boal's film on the same subject.
Their adaptation of President Obama's greatest military victory, due out in December, has been the source of political controversy since Rep. Peter King alleged that the White House gave the filmmakers access to classified information. Documents obtained by Judicial Watch in May showed that the filmmakers were given access to a member of the U.S. Navy SEAL Team 6 and the C.I.A. Vault.
Here's hoping Mr. Bowden's been treated with similar hospitality.