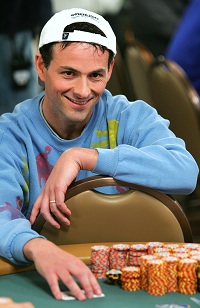 Hedge fund manager David Einhorn is playing cards right now in what is apparently the biggest poker tournament ever, and if you're one those people who likes watching others gamble, or can't get enough news of the Greenlight Capital founder—you can watch the livestream here.
The 48 participants in the World Series of Poker's Big One for One Drop put up $1 million to enter the tournament, with about 11 percent of each player's buy-in supporting a nonprofit organization that seeks to provide access to clean water. Organizers say the first prize of more than $18 million is the richest-ever pool for a poker tournament.
Mr. Einhorn, who The Observer's lay-readers may know from his attempt to buy the New York Mets last year, or perhaps from his writings on jelly donuts, finished the first day of play yesterday 16th out of 37 remaining players. Fellow hedge funder Daniel Shak, who made news last month when he sued ex-wife Beth over her million-dollar collection of designer shoes, was in 23rd place.
Mr. Einhorn finished 18th in the 2006 World Series of Poker, which was the biggest tournament by prize pool prior to the Big One for One Drop. He has said that he will donate any profit from the card game to City Year. If Mr. Shak is looking for a suitable charity, we can think of a couple good fits.
[Photo by Ethan Miller/Getty Images]