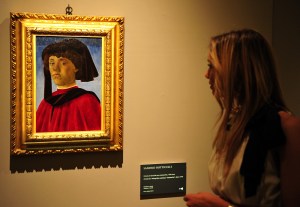 According to a post on the Art Law Blog today, if you consign your Botticelli, or any work, to a gallery and the gallery goes belly up, creditors can get hold of the work. Art law blogger Donn Zaretsky breaks down a recent ruling by a federal court in New York on the bankruptcy of Salander-O'Reilly Galleries to explain why.
Art dealer Lawrence Salander is serving six to 18 years in state prison after pleading guilty, in 2010, to fleecing his investors and customers, including John McEnroe and Robert De Niro, of more than $100 million, and selling art he didn't own. Now, it's been determined that his creditors, like Mr. De Niro, can retrieve art to satisfy their claims through a bankruptcy court proceeding. A painting by Sandro Botticelli, worth $9.5 million, for one, may provide some financial remuneration to creditors in this particular case. All this to the great chagrin of Kraken Investments, which had consigned to the gallery the work Madonna and Child, which was to be displayed in a 2007 exhibition "Masterpieces of Art: Five Centuries of Painting and Sculpture."
From the post:
The holding is that "a creditor could obtain a security interest in a consigned item senior to that of a consignee who does not file a [UCC] financing statement": "The law operates as follows: a consignor delivers goods to a , but does not file a financing statement, and thus the consignor's security interest is unperfected. The then grants a security interest in the consigned item to a creditor, who perfects [the security interest] by filing a proper financing statement." In those circumstances, "the creditor's rights are senior to" the consignor's unperfected security interest.