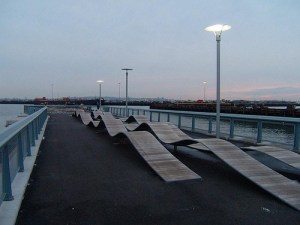 While its unforgiving Sultan mattresses do not stir wild desire in most people, apparently Brooklyn teenagers find the metal chaise lounges outside Ikea to be an ideal setting for sexual encounters, DNAinfo reports.
Hey, they're probably more comfortable than those dreadful particle board beds the store sells!
"There are lights that are purple and blue and change color. It's beautiful, like a wedding thing," 16-year-old Monica told DNAinfo.
Other teens also voiced their approval of the site, away from the prying eyes of parents, the inconveniences of a shared bedroom and other common impediments to sexual freedom.
"Kids got nowhere else to go," said 21-year-old Jonathan Morris.
But some community members are less than enthusiastic about the Ikea park's new purpose, particularly the used condoms, or  "squishy balloons" as one disgusted mom who enjoys frequenting the park with her kids calls them. "It's condom central. The lawn chairs are a bordello," the woman told DNAinfo.
A number of community advocates and health professionals also say that they're worried about Ikea sex and the sexual health of the teens enjoying it. But hey! People are only aware of the illicit activity because the teens are leaving the detritus of their safe sex all over the place.
Ikea built the park as a kind of good-neighbor gesture for the community. Little did they know how much it would be appreciated. The store, which has pledged to increase nighttime sweeps of the area after being informed of the activity, is apparently less than thrilled to learn how exactly the community has put the space to use, but at least it  disproves once and for all the claims of anti-corporate crusaders who have said that "Ikea in Brooklyn is nothing but a post-apocalyptic, post-consumerist ghost town."
kvelsey@observer.com