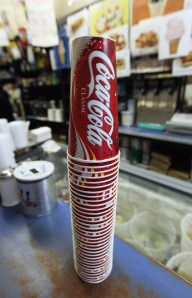 Comparing soda to drugs, the soda industry to tobacco manufacturers, and the obesity epidemic to a virus that wipes out thousands of New Yorkers a year, members of the Bloomberg administration and their allies pushed back against opponents of a plan to limit the size of sodas that consumers can purchase.
"New York City has been hit by an epidemic. The epidemic of obesity kills by our best estimates some 5800 New Yorkers per year. Now, if a virus were killing 5,800 New Yorkers this year we would be clamoring for  a strong government action to stop it," said Thomas Farley, the city's health commissioner.
The comments were made before a Department of Health hearing about the proposed ban, and were to a  room of several dozen reporters from news outlets around the world.
Mr. Farley went on to mock those who had opposed previous aggressive public health efforts by the Bloomberg administration, including a transfat ban in 2006
"Six years ago New York City Board of Health considered and ultimately passed a ban on artificial transfats in restaurants in New York City. At the time, the restaurant industry called [it]  'A misguided attempt at social engineering by a group of physicians who don't understand the restaurant industry.' Now, six years later, we know that the ban has reduced consumption of unhealthy fats in restaurants without an increase in saturated fats and it is potentially saving lives. I have not heard a single complaint about the ban on transfats in New York City and I fully expect the same will happen with this rule when it is ultimately put in place."
The hearing, which is set to begin shortly, is in a sense a fait accompli, since the Board of Health is entirely comprised of Bloomberg appointees. Opponents of the ban have largely relied instead on swaying public opinion, something today's press conference was designed to push back against.
"I have been particularly upset with the way the industry has been trying to justify the resistance to this very modest effort by talking about this as a violation of a person's rights and liberties," said David Jones, CEO of the Community Service Society. "We know the markup on these drinks is so enormous that close to drugs, this is about the best market you can get into. This have very little to do with personal responsibility and everything to do with the amount of money to be made."
Mr. Jones also slammed the opponents of the ban for their "Million Big Gulp March," which he said was "making fun" of the "Million Man March" in 1995.