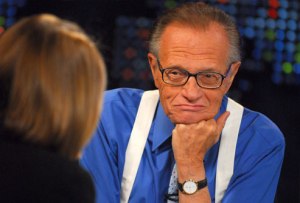 Larry King's new talk show, Larry King Now, recently premiered on Hulu with little build-up or fanfare. That was purposeful, said Jon Housman, CEO of Ora, which produces the series and airs it as the first element of a multi-year, multi-show partnership with Hulu.
"There's fairly compelling data out there that digital people get annoyed–they've been trained to be able to click something immediately when they see it," said Mr. Housman, formerly of News Corp. "As soon as we were out there talking about this, we wanted you to be able to see the show."
Despite the lack of roll-out for Mr. King's second act after his departure from CNN in 2010, the project has been gestating for some time: Mr. Housman was brought on board to lead the new video company, he said, after a conversation between Mr. King and Carlos Slim Helu led to the notion of bringing Mr. King online. Mr. King had been in Mexico City in September 2010 to speak at a scholarship awards ceremony put on by Mr. Slim Helu; in his memoir, the host wrote, "At age seventy-seven, I was still making friends like Carlos Slim. Which made me feel like the richest man in the world."
How will Mr. King's new act, funded by his pal's deep pockets, differ from his first? "We have flexibility in format, if we have a guest we want to run long on, we have flexibility to have that interview go as long as needed." (In the first week, an interview with Seth MacFarlane ran nearly 27 minutes, while Matthew McConaughey got just shy of 20. Meghan McCain was in the middle.) Mr. Housman indicated that this show catching on was a matter of booking; speaking hypothetically, he noted, "There are not that many shows where you can talk to a presidential candidate, a world leader, but also Lady Gaga and Ryan Seacrest." Promoting the show will rely on Mr. King being his irascible self in new platforms: he did an "Ask Me Anything" on Reddit this week.
"On social media, he's one of the most followed media personalities in the world," raved Mr. Housman.