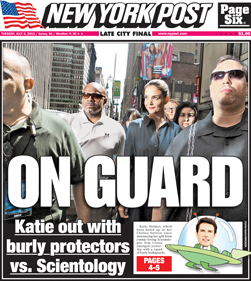 That's a provocative point Paula Froelich, formerly of the New York Post's Page Six, makes in a piece on The Daily Beast today. Rupert Murdoch has been Tweeting derisive comments about Scientology in the wake of Katie Holmes's filing for divorce from noted Scientologist Tom Cruise.
Rupert Murdoch's youngest children, after all, have Nicole Kidman as a godmother (she returned to devout Catholicism after breaking with Tom Cruise)–and Mr. Murdoch took Ms. Kidman's side in that divorce, one the actress was widely seen to have "won." (With the support of the press, Ms. Kidman went on to win an Oscar shortly after being a relatively untested Hollywood wife.) Ms. Froelich's piece states that Tom Cruise once attempted to recruit scion Lachlan Murdoch to the church.
Mr. Murdoch's New York Post has pushed the Crazy-Cruise angle much more furiously than has the New York Daily News–in today's covers, the Post raises the issue of Ms. Holmes's safety at the hands of Scientologist hired goons and features a caricature of Tom Cruise in a UFO, while the News goes softer and more personal, as though this were any high-profile divorce unmarred by cult behavior.