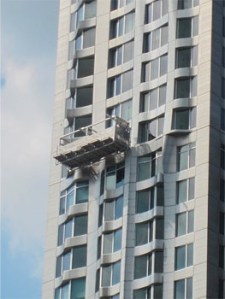 To be fair, it is (currently) the tallest residential building in the city. Still, the lengths to which the humble window washer must go to clean New York by Frank Gehry, the 76-story downtown apartment tower, are as extreme as the ripples in the buildings facade, according to The Times.
It is a few floors taller than the Time Warner Center, sure, but smaller in overall size, and still, Steve Ross' Columbus Circle colossus is cleaned in about one-third the time.
The Time Warner Center at Columbus Circle takes two crews about three months to clean, and New York by Gehry, a 76-story rental tower on Spruce Street with rippling stainless-steel siding, takes six to nine months, depending on the weather — cleaning crews will stay indoors if conditions are too windy, for example. (Extell Development Company declined to describe its plans for washing windows at its One57 project, which at 90 stories will be the tallest residential building in the city when it is completed.)
No wonder nobody wants to pay for overwrought designs. From leaky ceilings to lugubrious window washing, why bother?