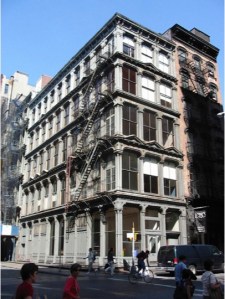 Eagle-eyed people strolling Soho in recent weeks may have noticed that the protective scaffolding that for the past 10 years has wrapped around 101 Spring Street, the cast-iron building built in 1870 that Donald Judd used as a residence and studio beginning in 1968, has finally been taken down. Today the Judd Foundation announced that its removal is part of a yearlong process of preparing the building to reopen to the public in June of next year.
The Judd Foundation, which is also at work on a catalogue raisonné of the artist's work, has been overseeing the systematic restoration of the building and its cast-iron façade, which features "1,300 restored original pieces of cast iron."
Judd installed work by a wide variety of artists in the space. From the release:
Each floor will remain as originally installed by Donald Judd with pieces from Judd's collection of over 500 objects, including original sculpture, paintings, drawings, prints, and furniture by Judd himself, as well as works by Jean Arp, Carl Andre, Larry Bell, John Chamberlain, Marcel Duchamp, Dan Flavin, David Novros, Claes Oldenburg, Ad Reinhardt, Lucas Samaras, and Frank Stella, among others.
Clearing all of June 2013 on our calendar right now.