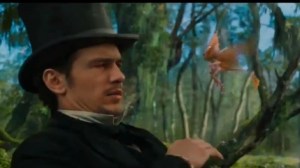 It's great that Disney and Sam Raimi finally sorted things out with Warner Bros. (who hold the old MGM copyright to The Wizard of Oz) so that the prequel, Oz: The Great and Powerful, could finally be released in theaters as it was meant to be seen.
If you weren't aware, Warner Bros. claimed that the new film couldn't make the Wicked Witch green, since that was something specific to their film, and not L. Frank Baum's children's books. So instead we get a Glinda-riffic Michelle Williams all in white, a fashionably red Mila Kunis, and a darkly chic Rachel Weisz (channeling Charlize Theron in Snow White and the Huntsman) as the hottest witchy witches since Idina Menzel took the stage as Elpheba in Wicked.

http://www.youtube.com/watch?v=yclgHQaAEJU
Oz centers on James Franco as a much younger wizard, who, as it appears in the previews, somehow lands in Tim Burton's Alice in Wonderland (maybe the producers had some say in which way the wind blew), and befriends a red queen witch and a white queen witch. Though we haven't seen the film, we're hoping the rest of the plot revolves around the Wizard convincing his new friend to put on a magical art show at the Emerald City's Film Festival, culminating in a Marina Abramovic-style performance piece where a house falls on one–or preferably all–of them.
Also starring Zach Braff.