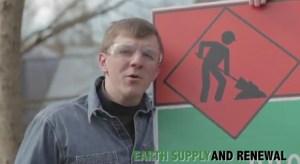 The latest video from controversial conservative provocateur James O'Keefe's "Project Veritas" implies unions and several big name New York politicians are colluding to earn state and federal contracts for do-nothing companies purporting to hire for so-called "environmental jobs."
In the clip, Mr. O'Keefe portrays an executive for a business that literally digs ditches and fills them back up with more dirt. He visits with John Hutchings, whom he describes as a "director" of the Laborers' International Union of North America, and former assemblyman Ronald Tocci and another man who apparently discuss how easy it is for them to use their lobbyists and political connections to get cash for businesses.
"When we go for a bill, you know, you've got to get approval of the Senate, and the Assembly and then the Governor's got to sign that. We have a lobbyist for the Senate [Republicans], and we have a lobbyist for the Democrats and that's how we try to push our agenda through," Mr. Hutchings says in the video. 
Mr. Hutchings specifically mentions Tom McMahon, Tom Harnet, who he says "usually takes care of" the Democrats in the Assembly and Powers & Company, who "take care of the Senate."
Mr. O'Keefe's is best known for releasing videos targeting ACORN that resulted in organization losing federal funding. His partisan ambush attack films have been criticized by his detractors and in 2010 he was arrested and accused of trying to hack into the phone lines in the office of Democratic Louisiana Senator Mary Landrieu.
In this clip, which has been heavily edited and features the pop hit "Call Me Maybe," Mr. O'Keefe and an accomplice painstakingly tell Mr. Hutchings their company does nothing but dig and re-fill ditches.
"You really have to dress up what we do, 'cause all we do is dig holes," Mr. O'Keefe says.
He goes on to ask if Mr. Hutchings knows "political office holders in New York… who can help us find those–basically excuses to get public funds."
Mr. Hutchings says New York's two senators will give them a friendly reception.
"We're good with Gillibrand and Schumer," Mr. Hutchings says.
Mr. Tocci suggests his former Assembly "colleagues" Congressmen Jerry Nadler and Eliot Engel.
"It's awful hard for anybody to vote against, like, a jobs bill right now," says Mr. Hutchings.
According to Mr. Hutchings, Assembly Speaker Sheldon Silver won't involved himself in picking the recipients of grants, but he does approve them.
"Shelly Silver wouldn't say specifically, 'Fill the dirt there.' He would have to approve a grant to do that type of stuff, then we'd have to find places where to dig," Mr. Hutchings says. "He doesn't want to get involved in picking, that's where they get into trouble."
Mr. Hutchings is dismissive of the Green Jobs, Green New York program as well as the NYSERDA grant system, but thinks there's a positive aspect as long as people are being hired.
"You know, the Green Jobs Green New York, between us, a lot of it's bullshit," Mr. Hutchings says. "Even if it's bullshit, I think as long as people are working that's not bullshit."
Watch Mr. O'Keefe's edited nearly nine minute version of the video below. He also posted nearly one hour of "raw footage" here.
[youtube http://www.youtube.com/watch?v=nHYFONbT8EM&w=560&h=315]