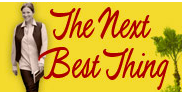 Jennifer Weiner, the bestselling author of Good in Bed who coined the term "Franzenfreude," has long contended that male novelists suck up more than their share of this town's rarified literary air. But a banner ad spotted on The Millions today puts Ms. Weiner's latest book and her cause where the bookish elite can't miss it.
"Jeffrey Eugenides doesn't have a book out this summer," says the ad, styled to look like the Times Square The Marriage Plot billboard that FSG shelled out for, "but Jennifer Weiner has… The Next Best Thing."
The Next Best Thing is the title of the book, misogynists.
Who do you think wore the vest better?