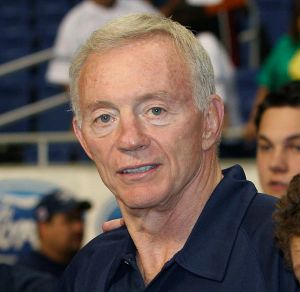 Jerry Jones is known as the composite human caricature whose lifeblood was drawn from Dallas' J.R. Ewing, all the characters Jim Varney invented that were too unfunny to use, and those "NEW YORK CITY?!" salsa commercials. He also happens to own the Dallas Cowboys, the NFL team with the most expensive stadium in the country, which features the biggest TV screen in, like, the universe, because the people who go to Dallas Cowboys games are the kind of people who would rather focus on a high-definition televised event of that which plays out live and directly in front of them instead of watching the actual event. Jerry Jones makes James Dolan look like Fred Rogers's unshaven cousin from Long Island.
Either way, Jerry Jones's famously expensive (and mostly unsuccessful-as-of-late) team, the Dallas Cowboys, were eliminated by last year's Super Bowl winners, the New York Giants. You may have heard of them: They have been counted out by pretty much everybody year after year and people often call for their coach to be fired and their quarterback to be traded.
Instead, they won the league championship twice in the last four years, which isn't half bad.
As it turns out, they will be playing this other team from Texas at the beginning of the season, in New York. Later in the season, the New York Giants will go to Texas, where they will play this Cowboys team. And the owner of the Dallas Cowboys, Jerry Jones, had this to say about not the upcoming match, but the one after it today at a training camp:
"Y'all should come to Cowboys Stadium and watch us beat the Giants' asses," Jones told fans during a ceremony to signal the opening of Cowboys' training camp Monday, a festival-like event that featured a few skydivers and a performance from the franchise's famous cheerleaders.
This is interesting, because right before it, Cowboys defensive coordinator Rob Ryan decided he wouldn't say anything in that tone this year, seeing as how it didn't work out so well last year:
Ryan vowed early in last year's training camp that the Cowboys would "beat the ass of the all-hype [Philadelphia Eagles] team," but the otherwise underachieving Eagles won both meetings against Dallas. Ryan, who was especially humiliated in the Cowboys' 34-7 loss in Philadelphia on Oct. 30, plans to keep the bulletin-board material he provides with his mouth to a minimum. "Day 1, I'm not calling anybody out," Ryan said Monday. "I've learned. This is a bigger media than some of the other spots that I've been, so I'm going to keep my mouth shut and work."

That was before the skydivers made an appearance and Jones got on stage with a microphone.
Jerry Jones, who is 69 years-old, and yet, looks like a piece of octogenarian jerky, is married to Gene Jones. Together they have three children, and nine grandchildren. The Cowboys will face in the Giants in a local football game in September, and then again, in an away game, in October.
fkamer@observer.com | @weareyourfek