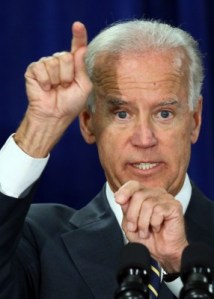 Vice President Joe Biden is scheduled to be the keynote speaker at the National Council of La Raza in Las Vegas later today and he plans to attack Mitt Romney for not revealing more of his tax returns. Advance excerpts of Mr. Biden's speech sent out by the Obama campaign include a line mocking Mr. Romney for his support of Arizona's immigration law in light of his refusal to disclose 12 years of returns, a tradition for presidential candidates that was started by his father, George Romney.
"When his father, George Romney, was a candidate was for President in 1968, he released 12 years of tax returns because, as he said, 'One year could be a fluke, perhaps done for show.' … His son has released one year of his tax returns," the speech says. "Making a lie of the old adage: Like father, like son….Mitt Romney wants you to show your papers, but he won't show us his."
Mr. Romney has released his 2010 return and an estimate for his liability in 2011. His failure to release more information about his finances and his mysterious collection of offshore assets has become a favored target of attacks from the Obama campaign in recent weeks.